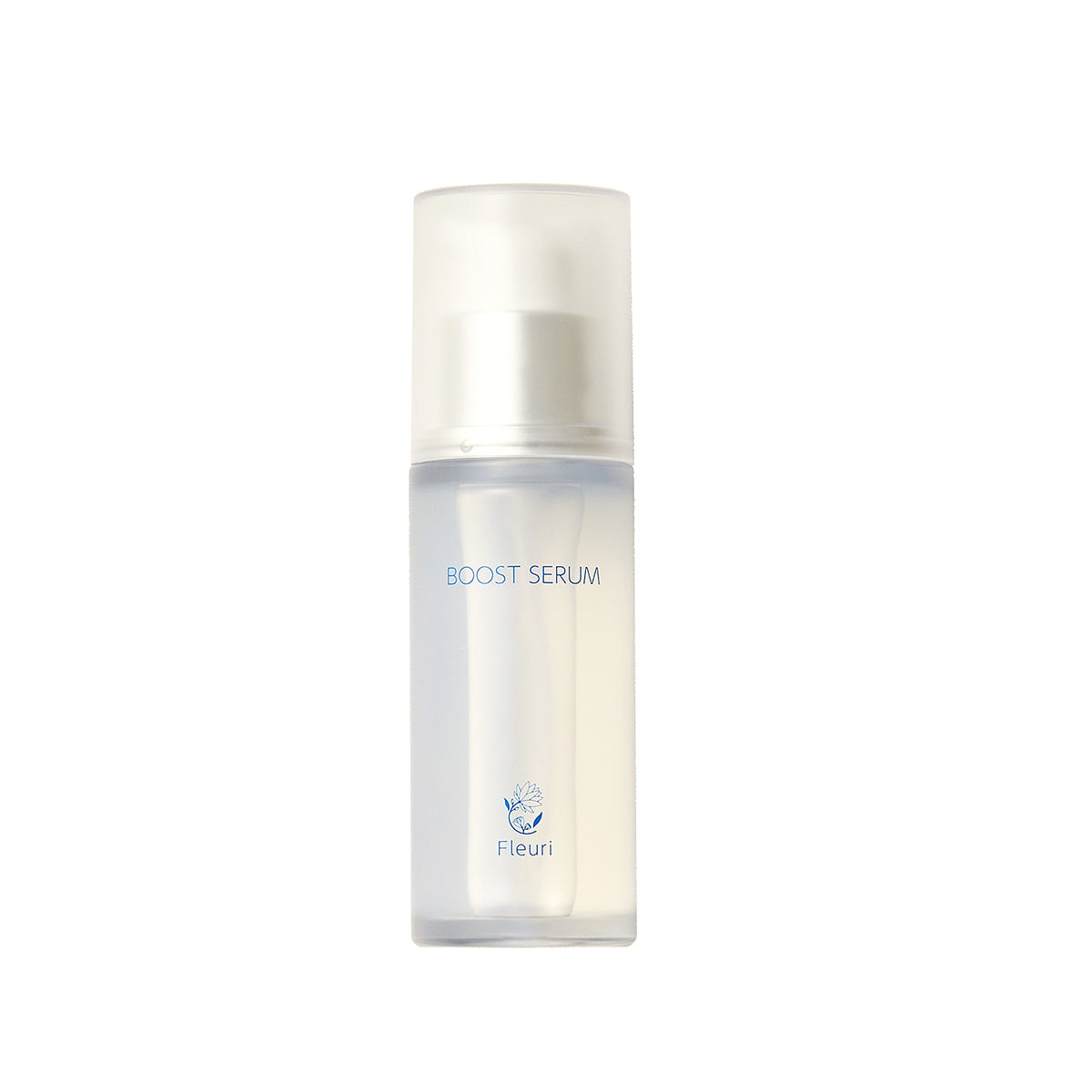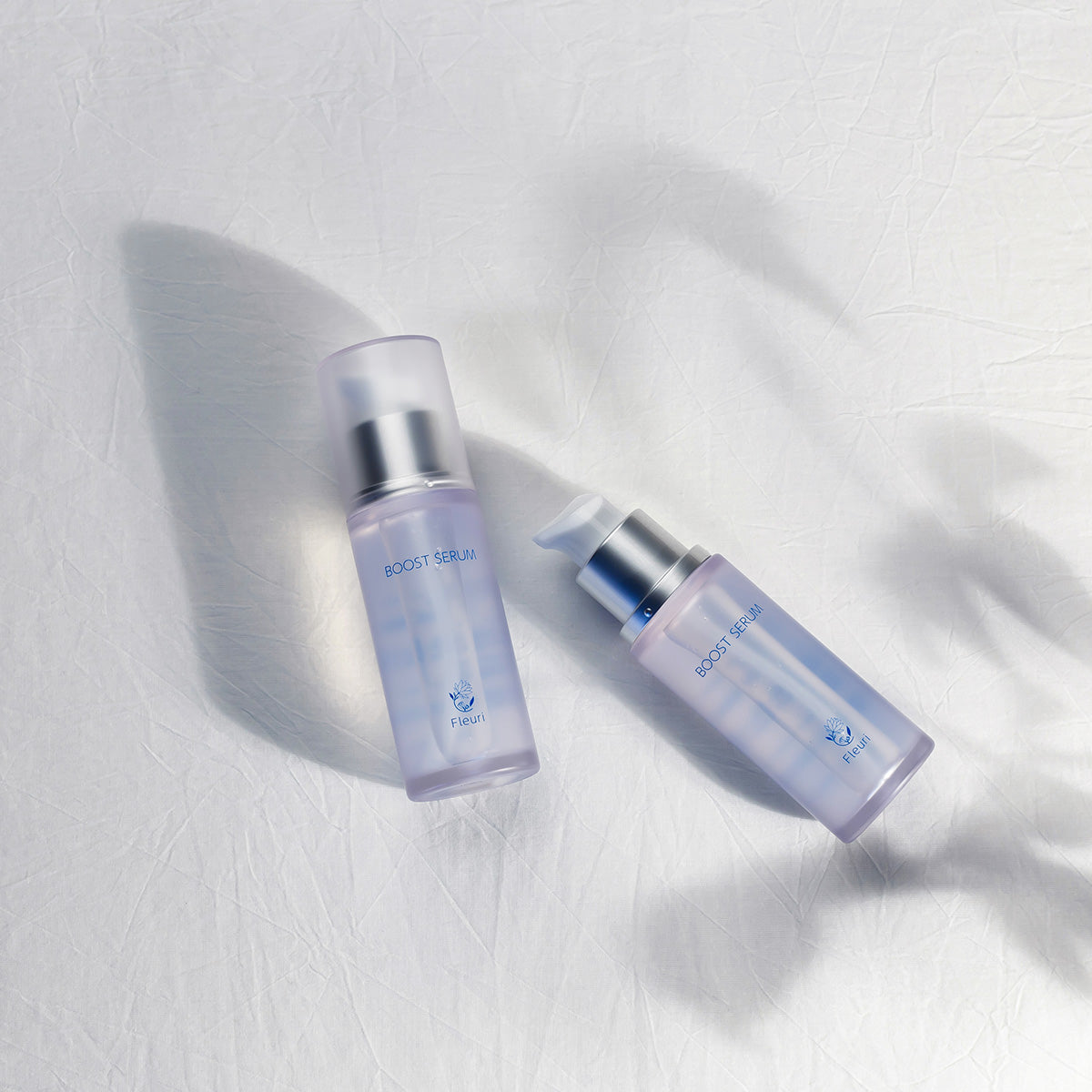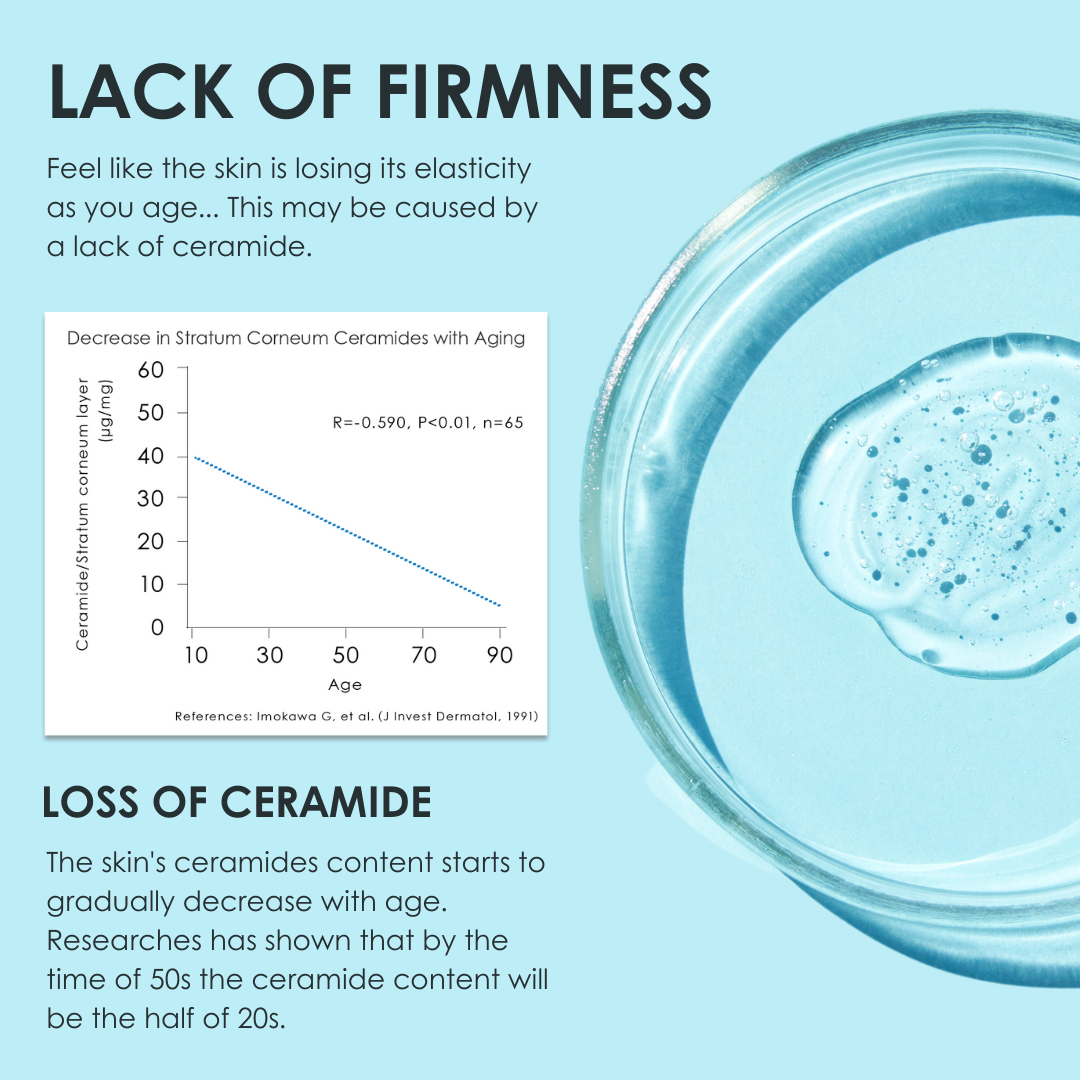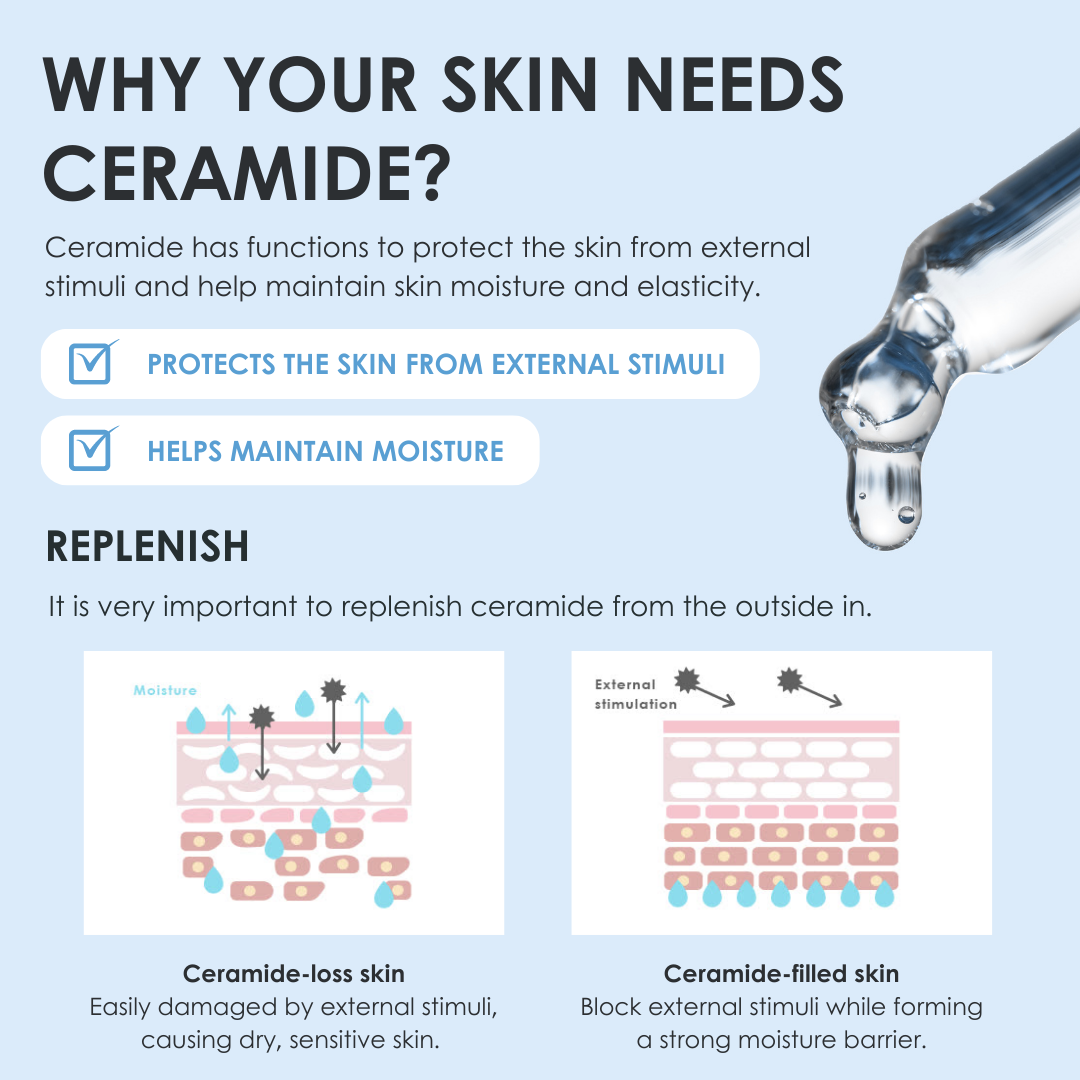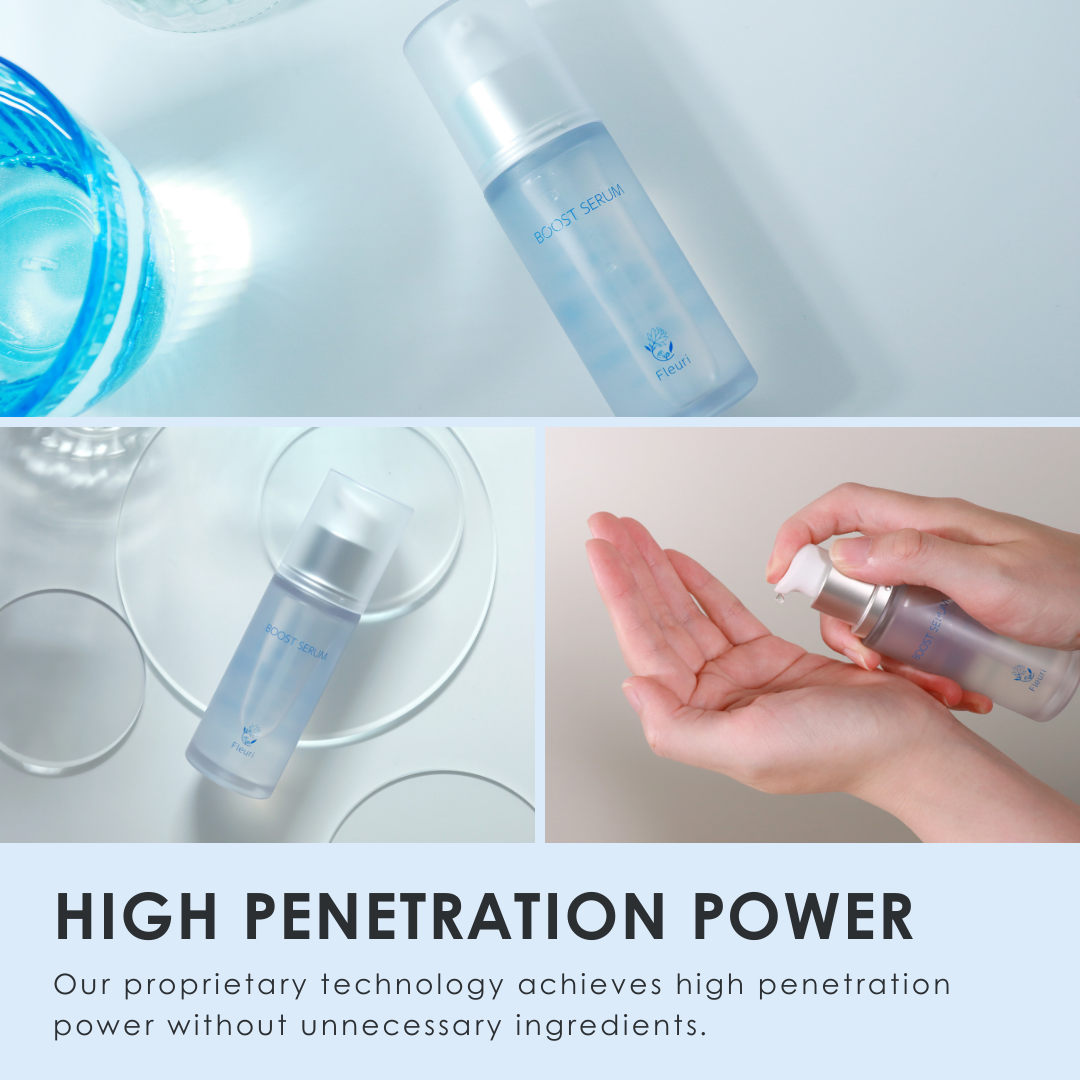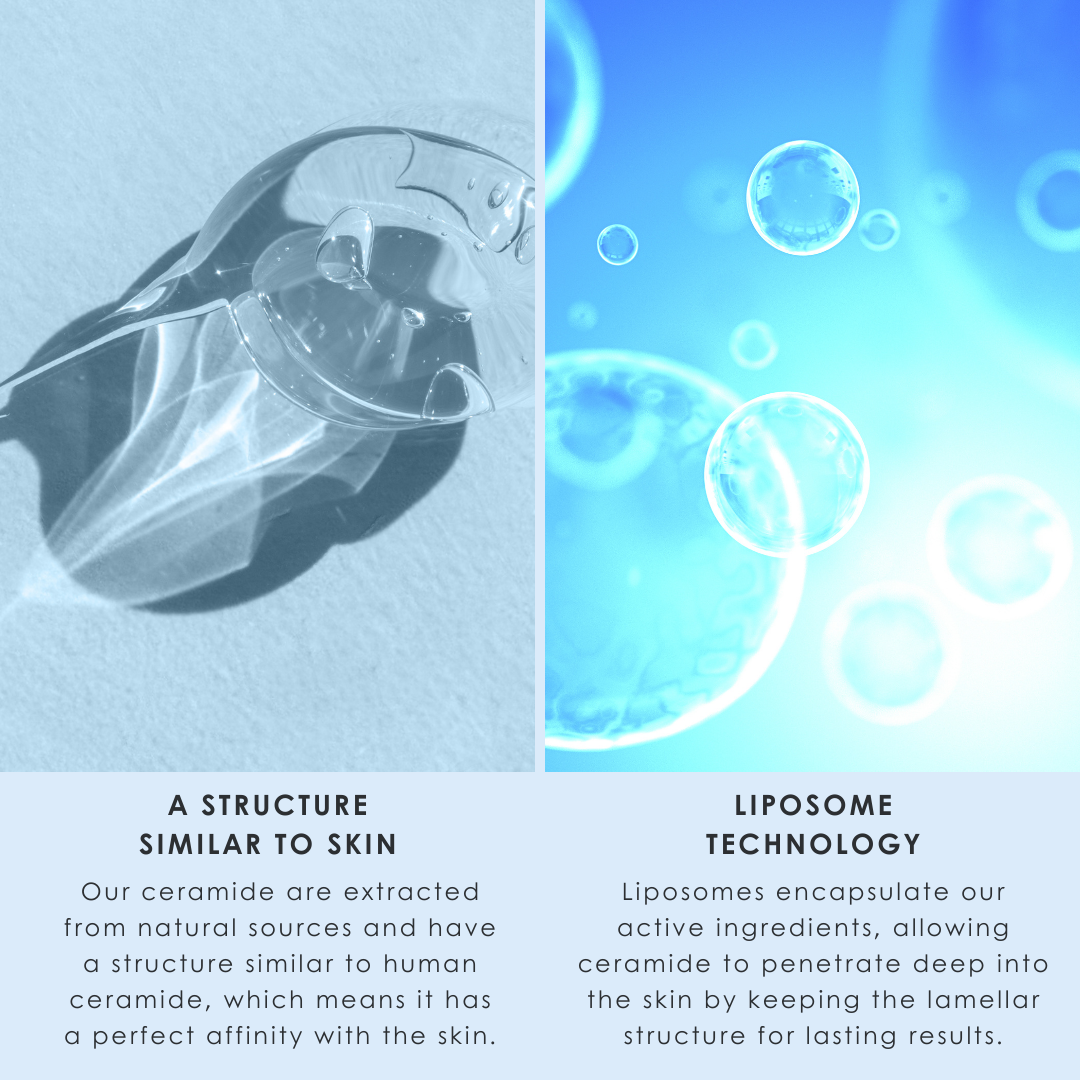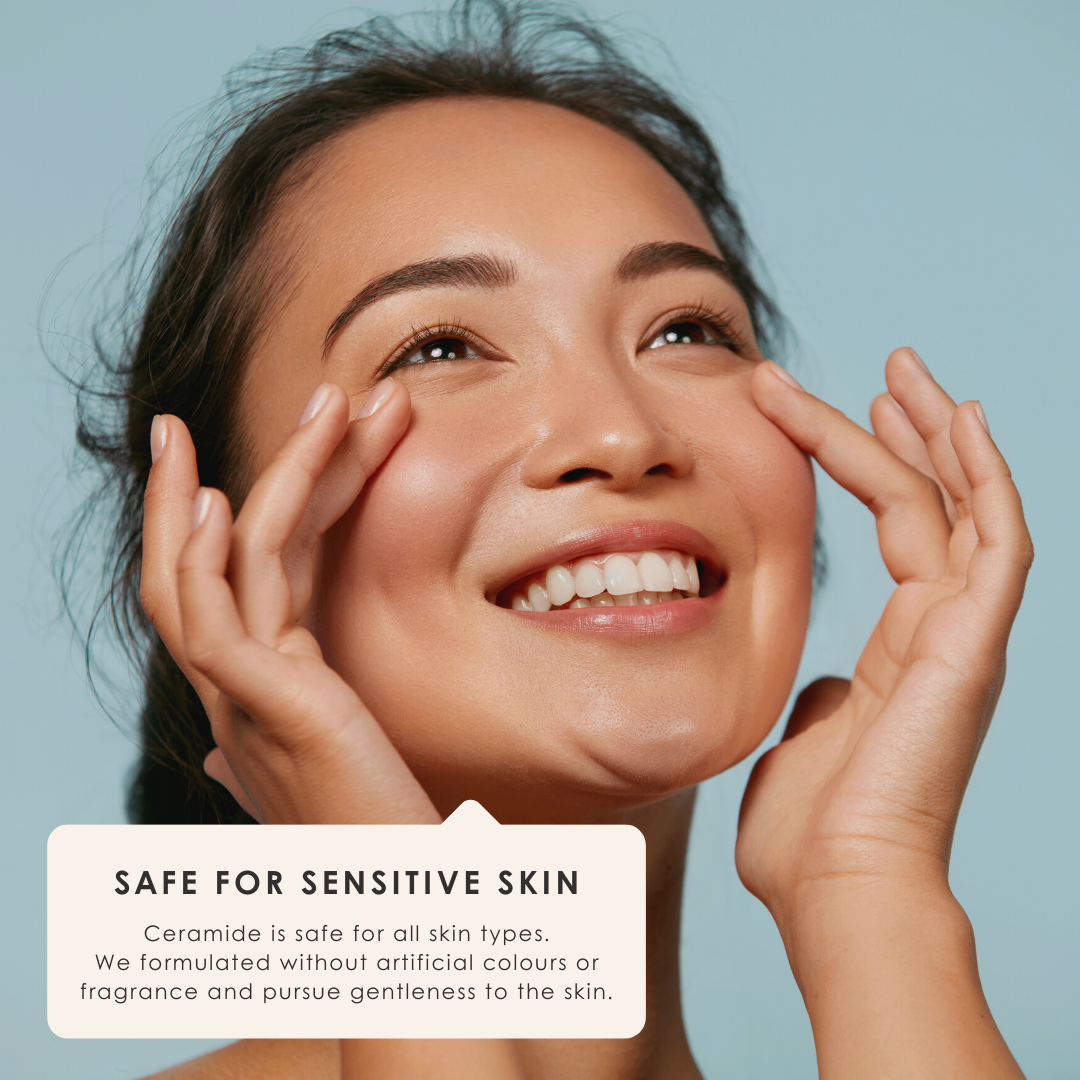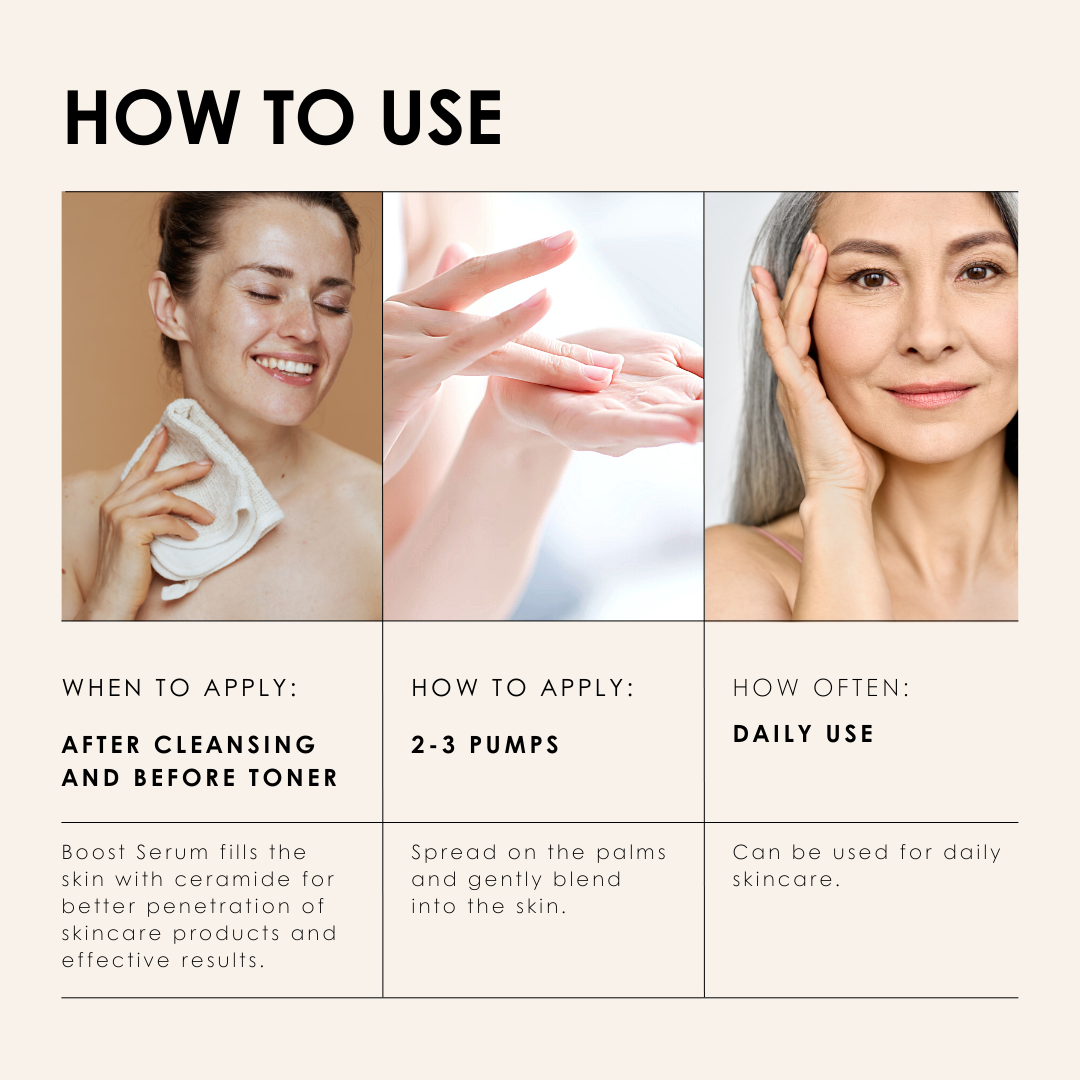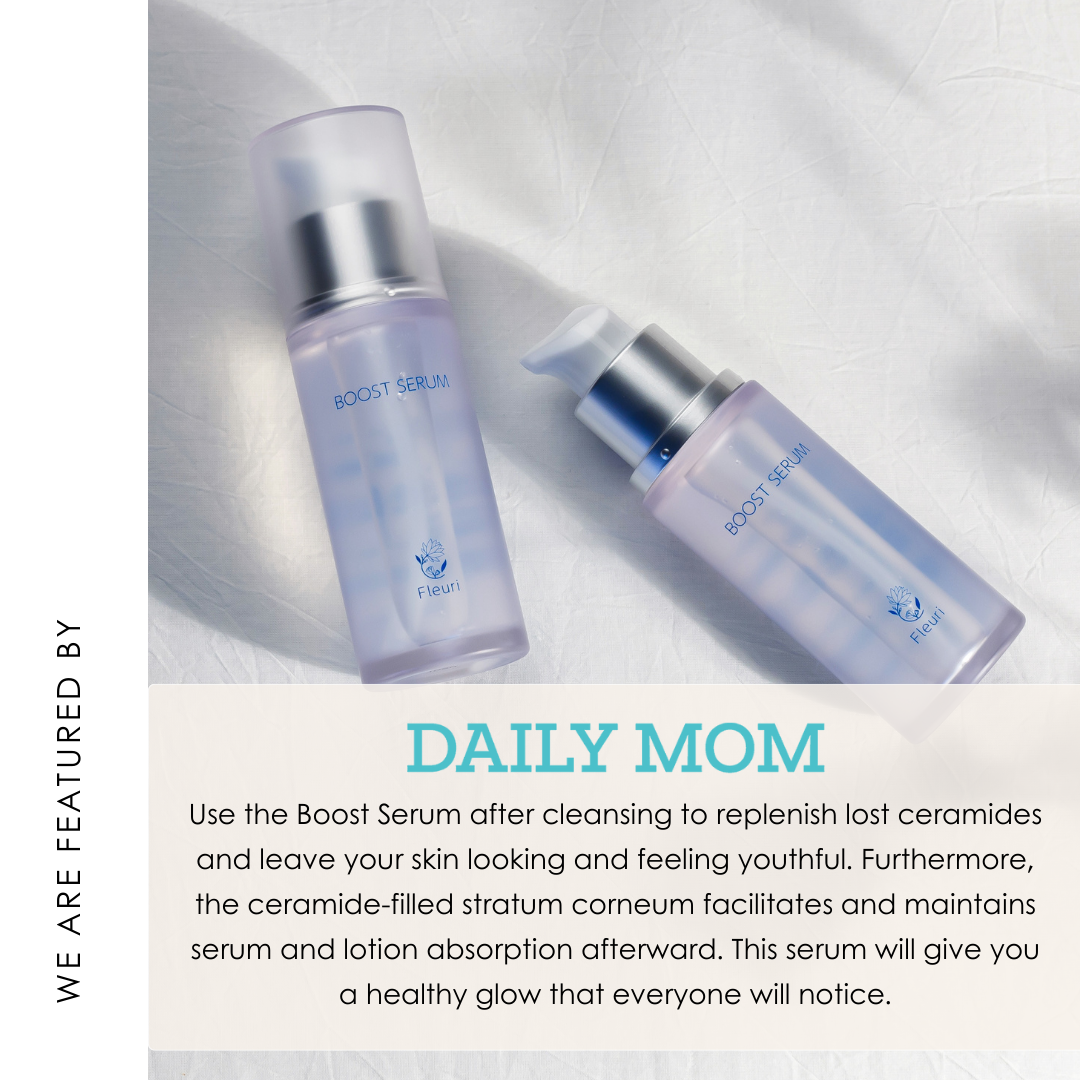 BOOST SERUM -Skincare Boosting Serum-
Replenishes lost ceramides from aging and creates a firmer and smoother texture. The ceramide-filled stratum corneum helps promote the absorption of toners and serums for lasting results.

40 ml / 1.3 fl oz
RECOMMENDED FOR: All Skin Types
---
Sale price

$82.00
Regular price

$82.00
(/)
Details

Why is it effective?

Contains a high concentration of nano-derived natural ceramide with our proprietary formulation. Japan is one of the countries with the most advanced ceramide research in the world. Our ceramide can penetrate deep into the skin by keeping the lamellar structure to get the maximum effects of ceramide.

Ceramide is the key to support the skin's moisture retention and barrier function. Filling deep into the skin with ceramides helps create firmer without causing dryness.

Natural Ceramide

Our ceramide is pure and non-synthetic and extracted from natural ingredients. They are compatible to human skin and have various functions.

Type 1 ceramide (EOP)

Reinforces the skin's barrier function and improves skin elasticity and firmness.

Type 2 ceramide (NS/NG)

Has a high water retention function and are most abundant in human skin.

Type 3 ceramide (NP)

Reinforces the skin's barrier function and improves the moisture balance. Protects and repairs skin from dryness.

Type 4 and 5 ceramide (EOH / AS / AG)

Creates and retains a lipid barrier in the stratum corneum.

Type 6 ceramide (AP)

Has high water retention fuction, promotes turnover, and helps reduce wrinkles.

Type 7 ceramide (AH)

Controls proliferation of cells and maintains a balance of normal bacterial flora of the skin.

Highly recommended for

・ Better skincare absorption
・ Dry and sensitive skin
・ Itchy and redness
・ Dull and rough skin texture
・ Acne prone skin
・ Impaired barrier function
・ Baby's skin
・ Visible wrinkles
Ingredients

Proprietary Ceramide Formulation

Our encapsulated Ceramide penetrates deep into the skin by keeping the lamellar structure for lasting results. There are many ceramide serums and it it difficult to deliver ceramide with preserving the original structure, but we have made it possible with using our advanced proprietary technology.

Olive Fruit Oil

It is highly compatible with human skin and helps prevent moisture evaporation from the stratum corneum, leaving skin soft and smooth. It also prevents and minimizes rough skin, fine lines and wrinkles. The products with olve fruit oil is trending in Japan and this ingredient is used not only in cosmetics but also in food and medicines.

Rose Canina Fruit Oil

It is rich in vitamin C, which inhibits oxidation and reduces skin problems. It also has moisturizing and anti-aging effects.

Jojoba Seed Oil

Since it is similar to human sebum and compatible with skin, it can prevents moisture evaporation from the skin by creating a thin film on the surface.

Full ingredient list

Water, propanediol, BG, sphingolipids, squalane, tocopherol, macadamia seed oil, jojoba seed oil, olive fruit oil, crabapple fruit oil, glycerin, xanthan gum, pentylene glycol

Formulated without

Petroleum-based oils, unrefined oil, alcohol, artificial colors, paraben, phenoxyethanol, petroleum-based surfactants, artificial fragrance, antioxidant, mineral oil, UV absorber, preservatives, silicone, petrolatum, phthalate, sulfate, SLS, formaldehyde, urea, and palm oil
How to use

STEP 1: Spread the Forumula on the Palm of your Hands

After washing your face, allow your skin to settle down a little before using. When your skin is dry, apply 2 to 3 pumps. (If your skin is particularly dry, apply 3-5 pumps.)

STEP 2: Massage and Blend

Spread it on your palm and gently blend it into your skin. If you are concerned about dryness, apply in layers. Please refrain from patting as it may irritate the skin.

Texture : liquid

Fragrance : fragrance-free

pH : 6.5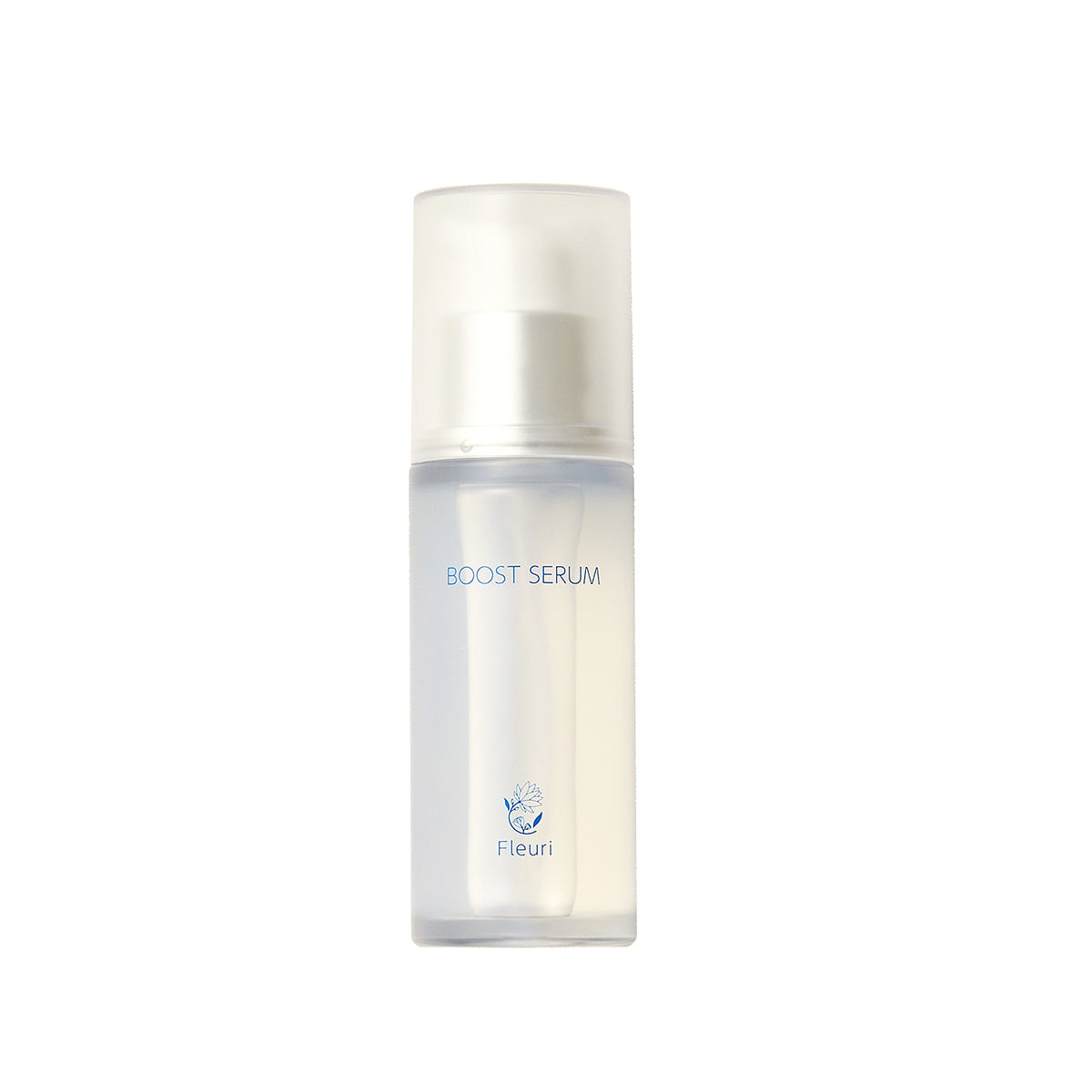 BOOST SERUM -Skincare Boosting Serum-
Sale price

$82.00
Regular price

$82.00
Choose options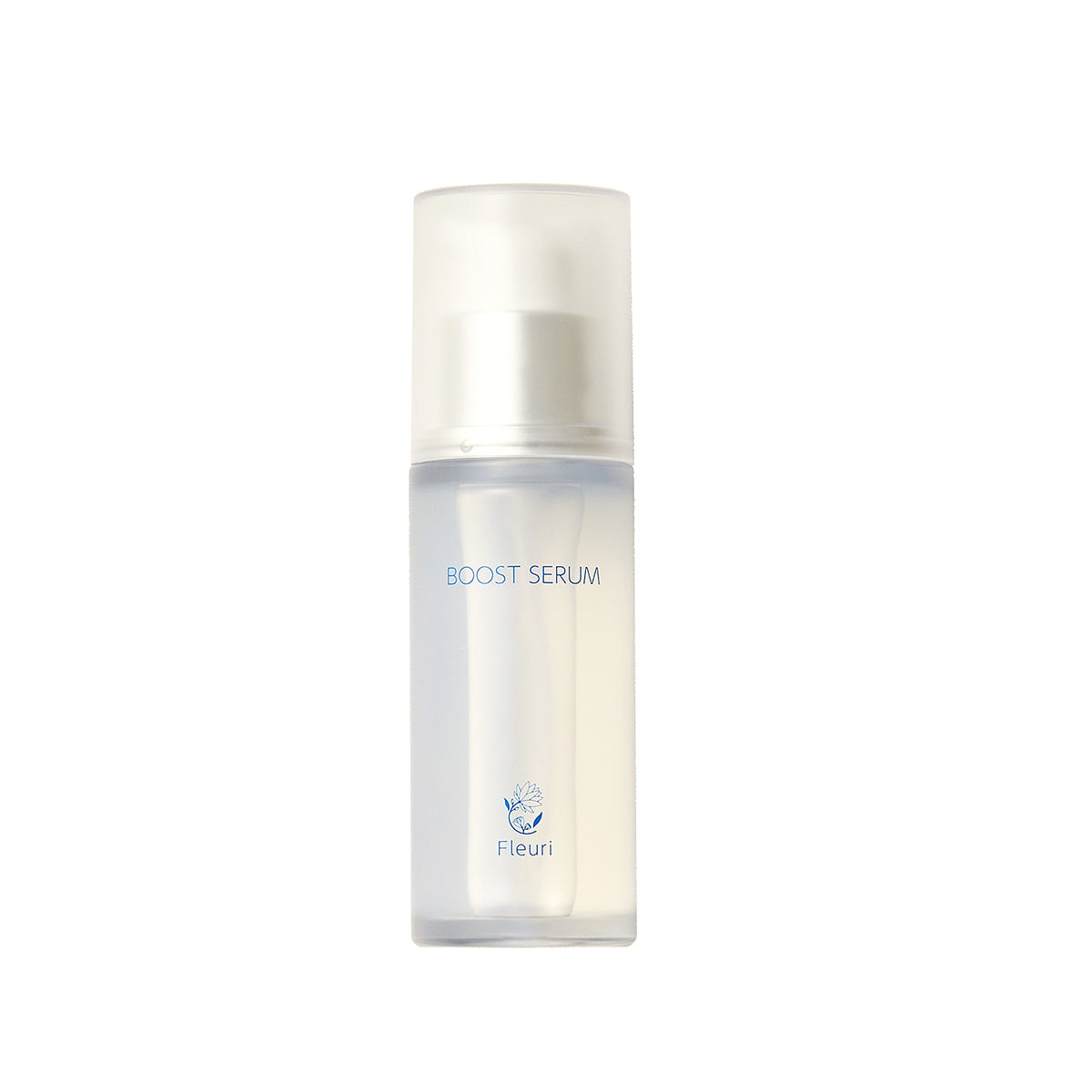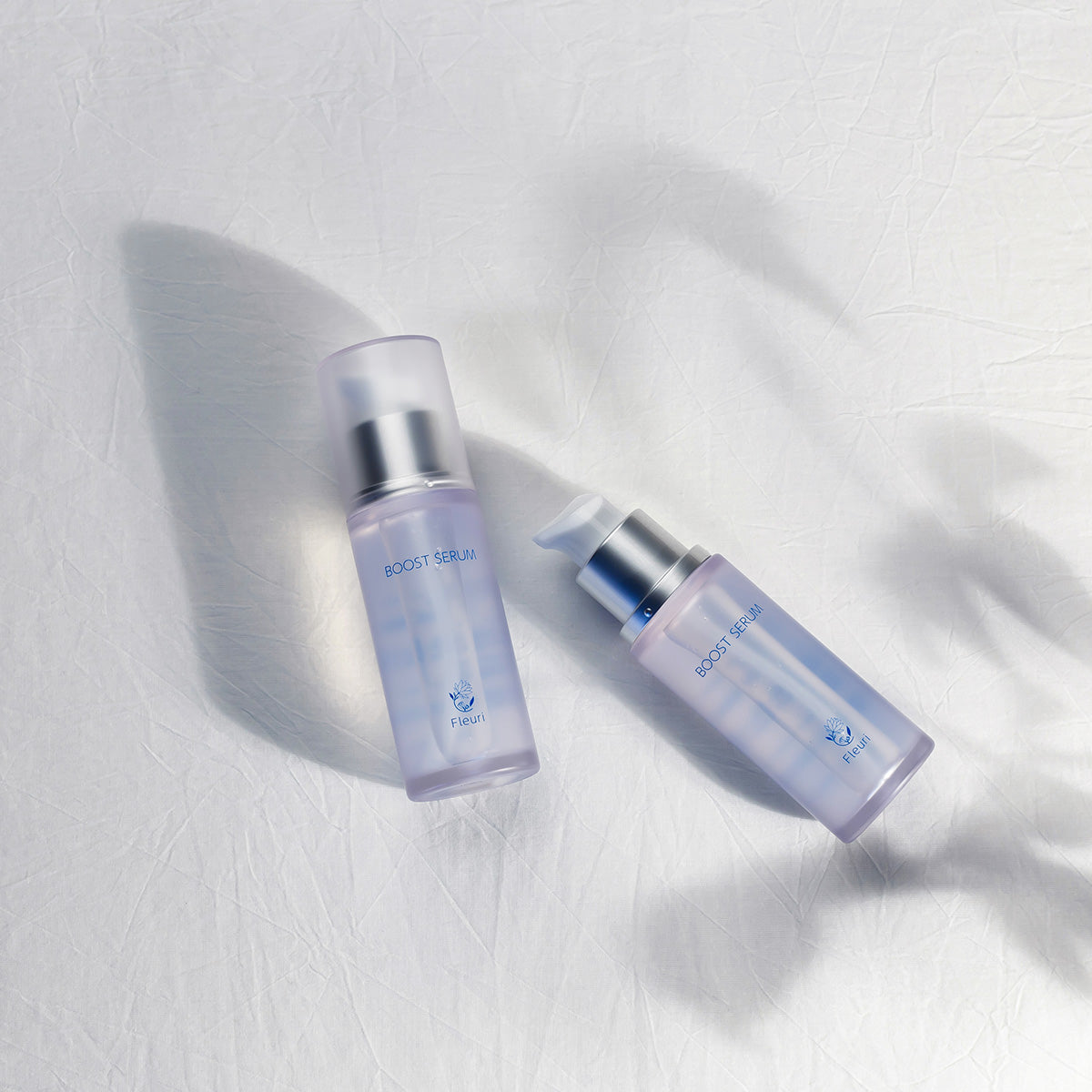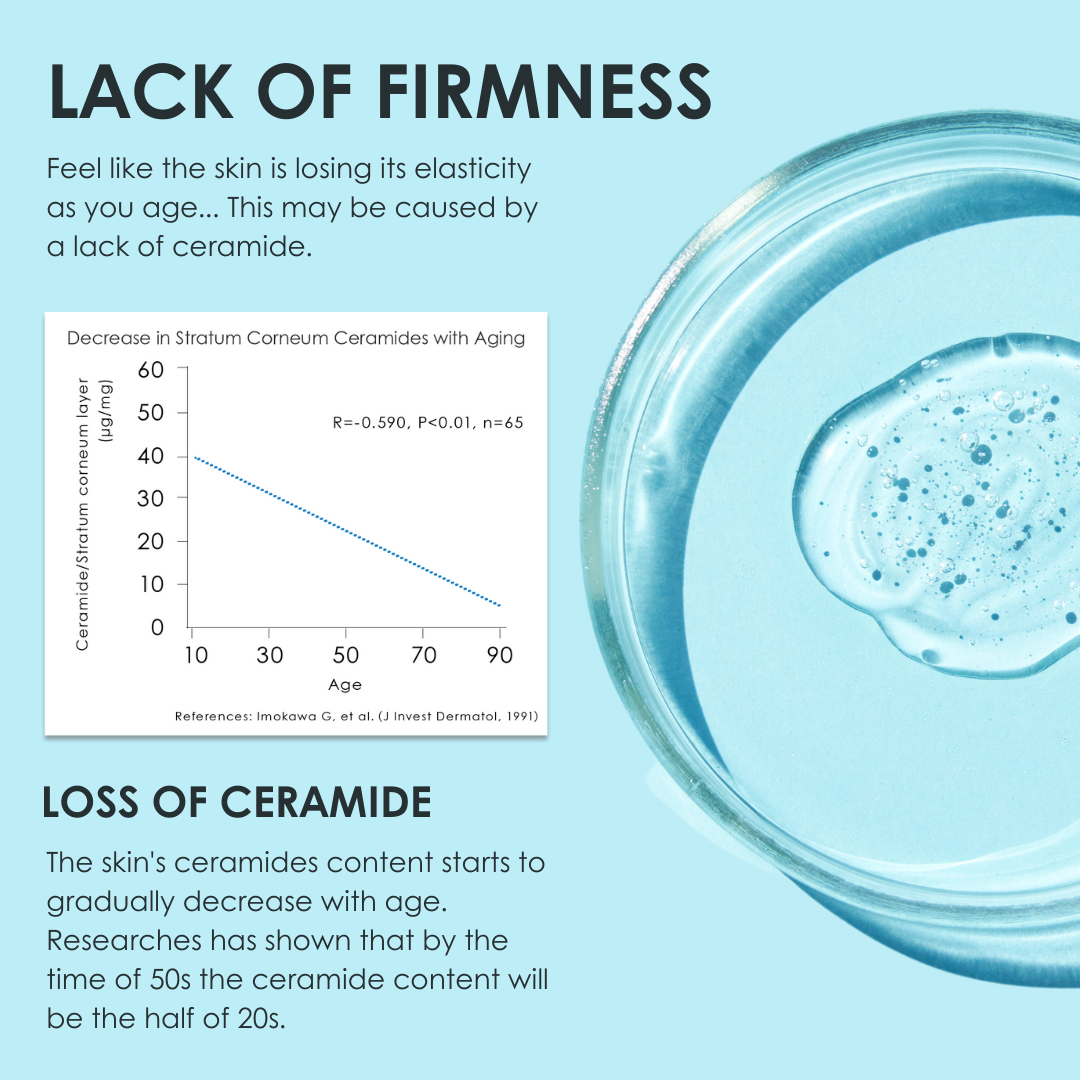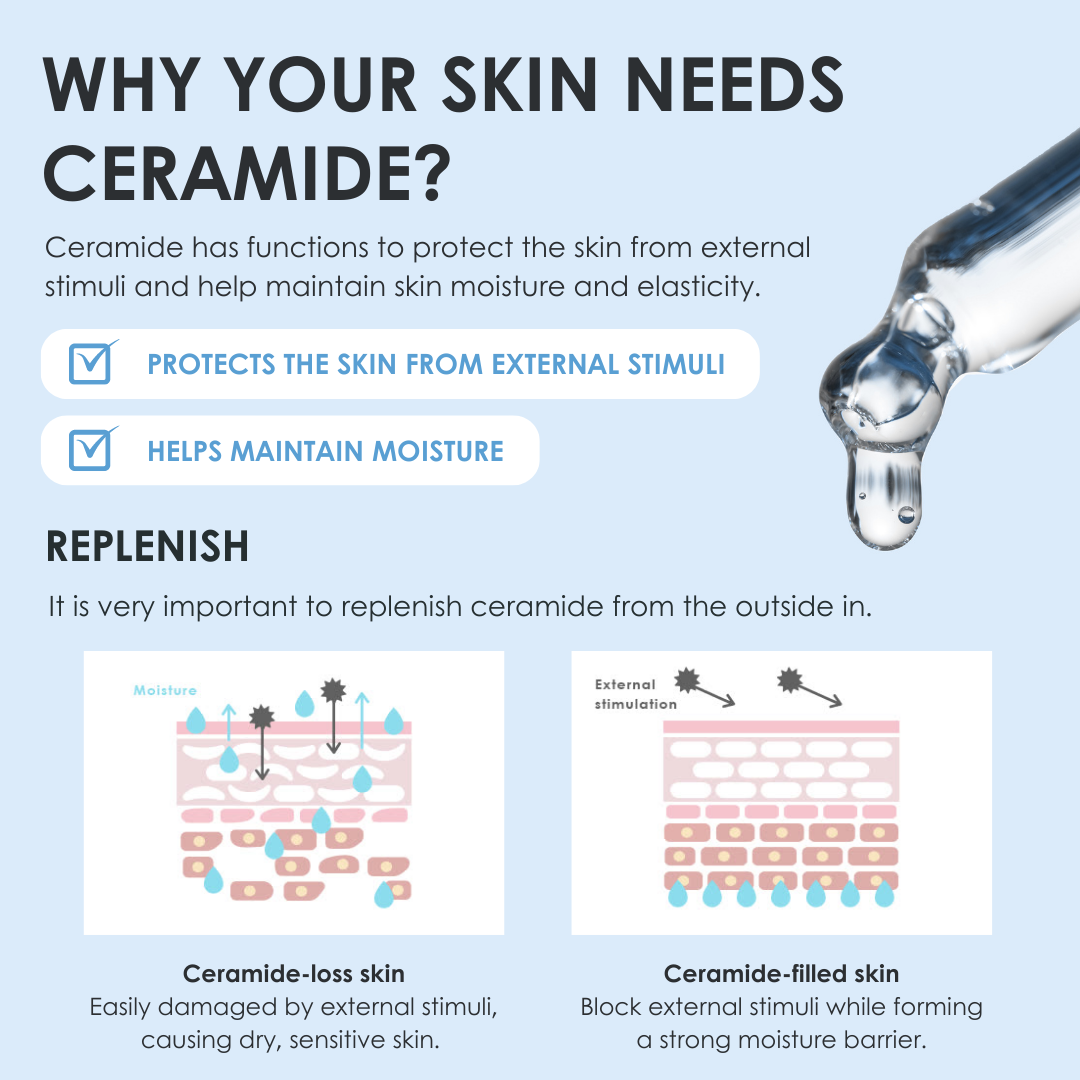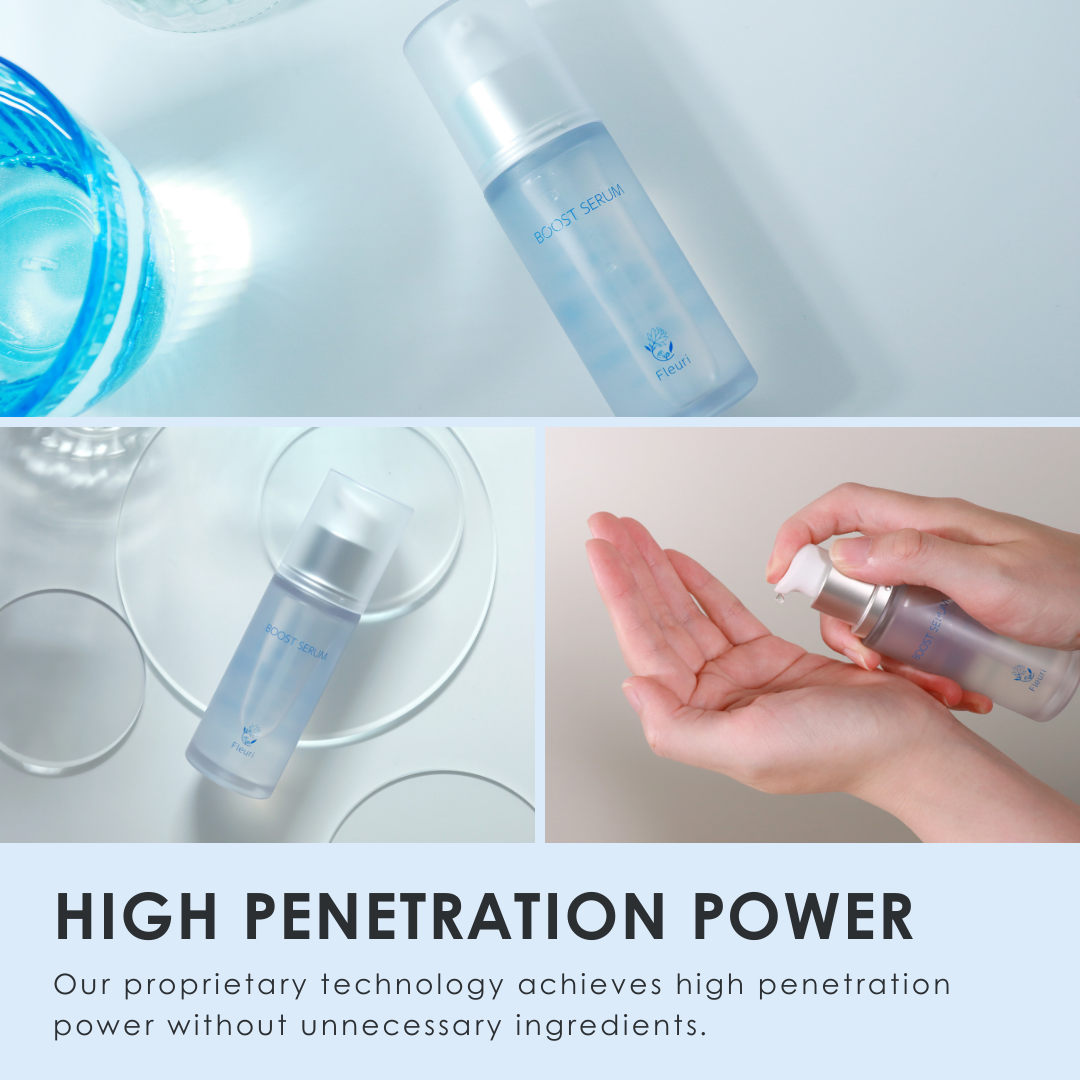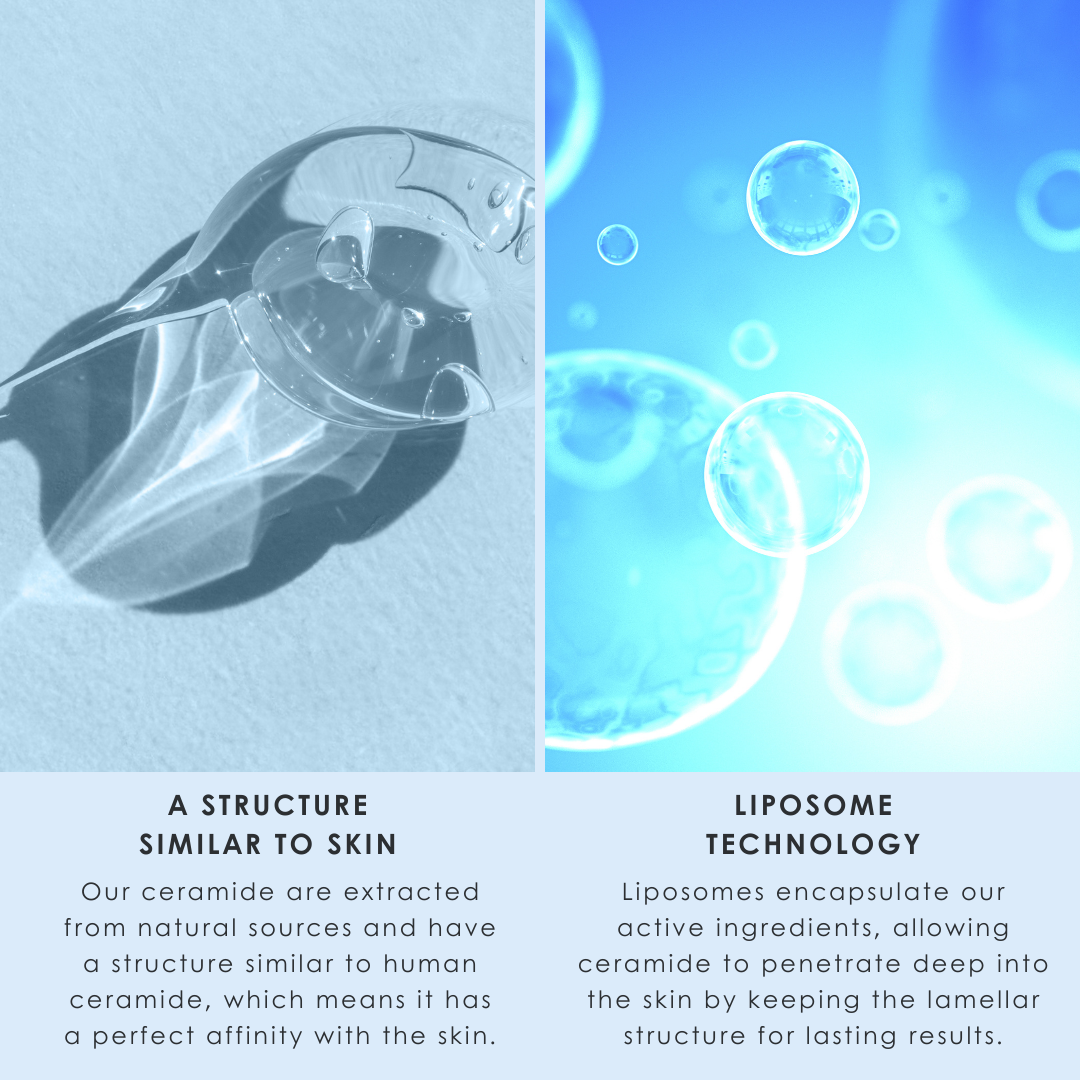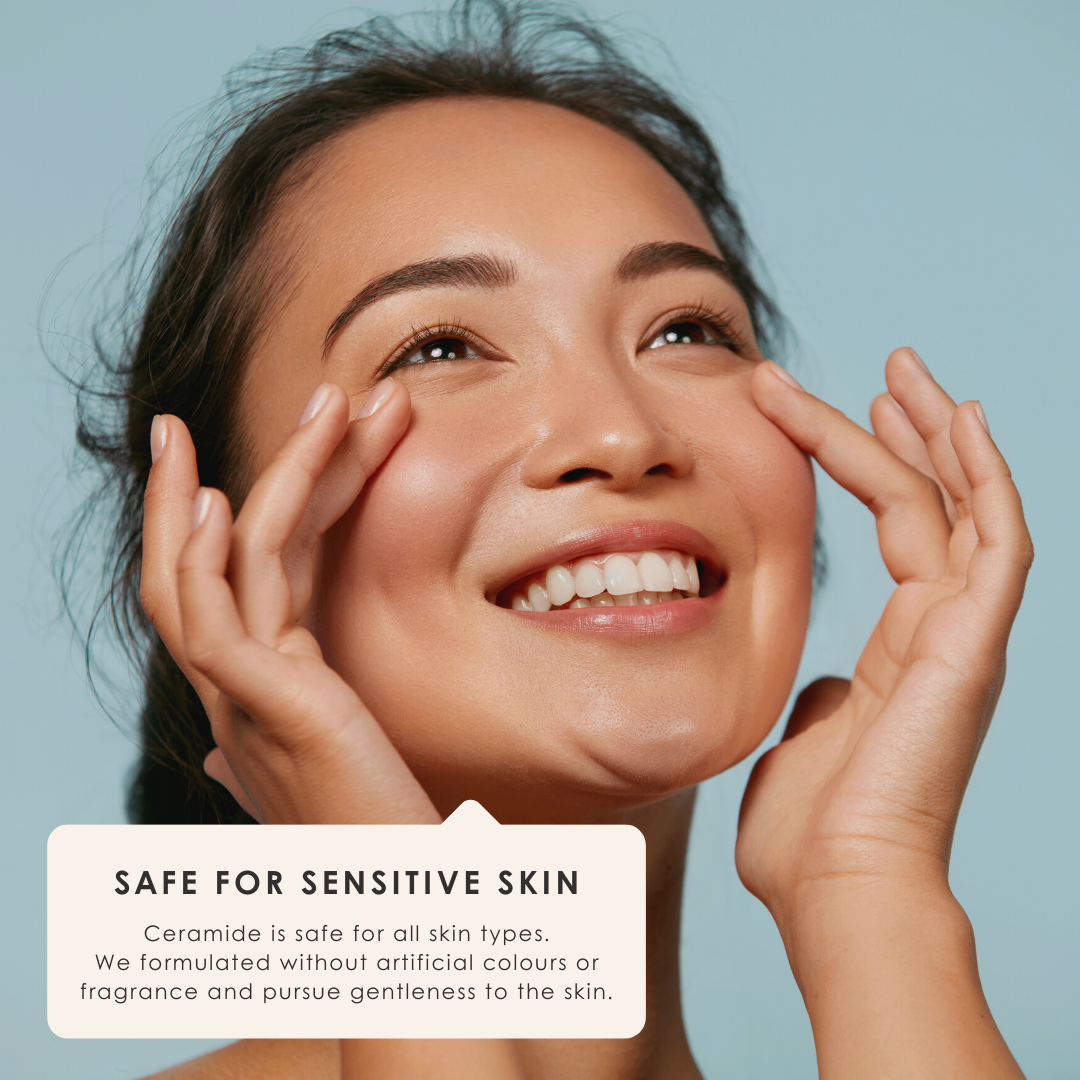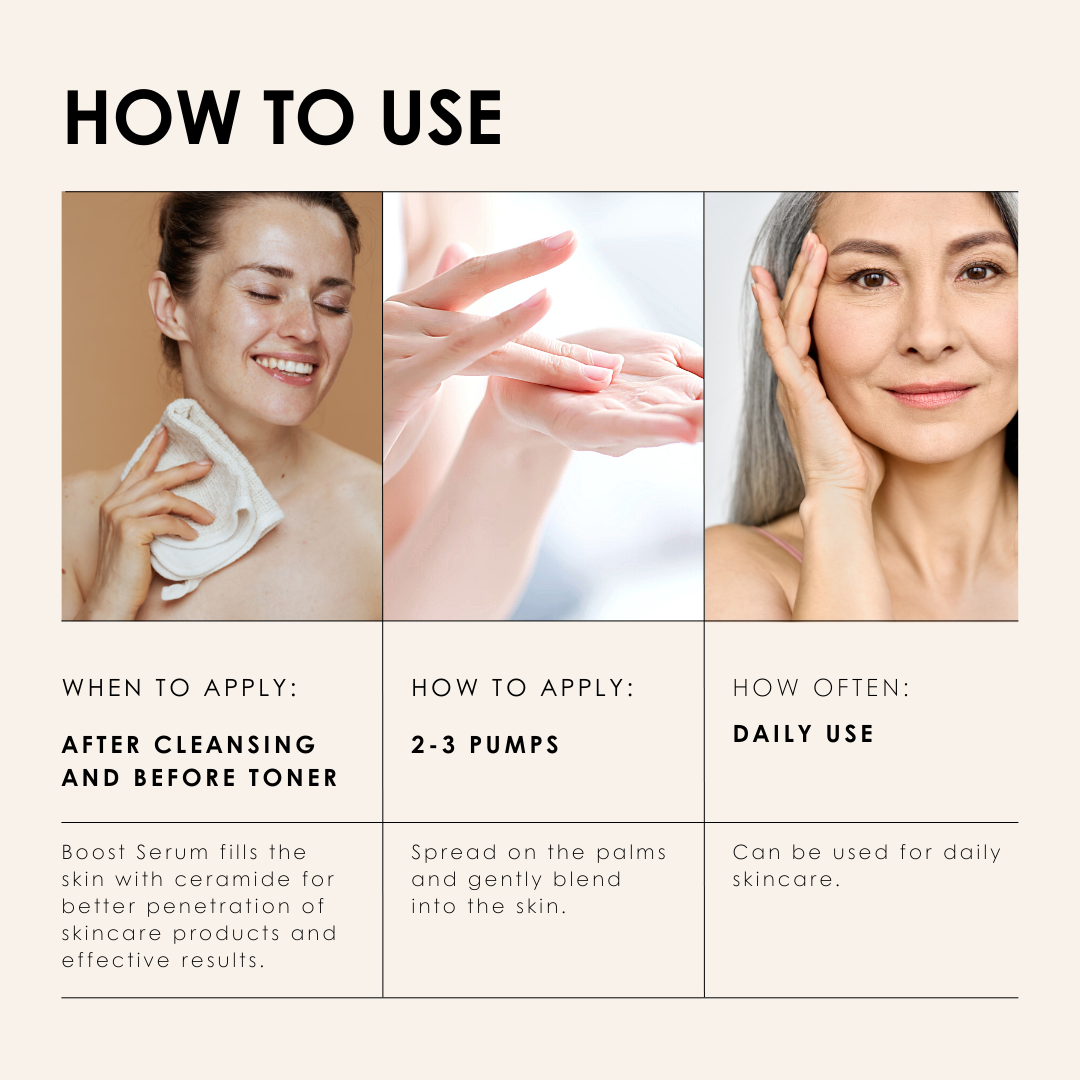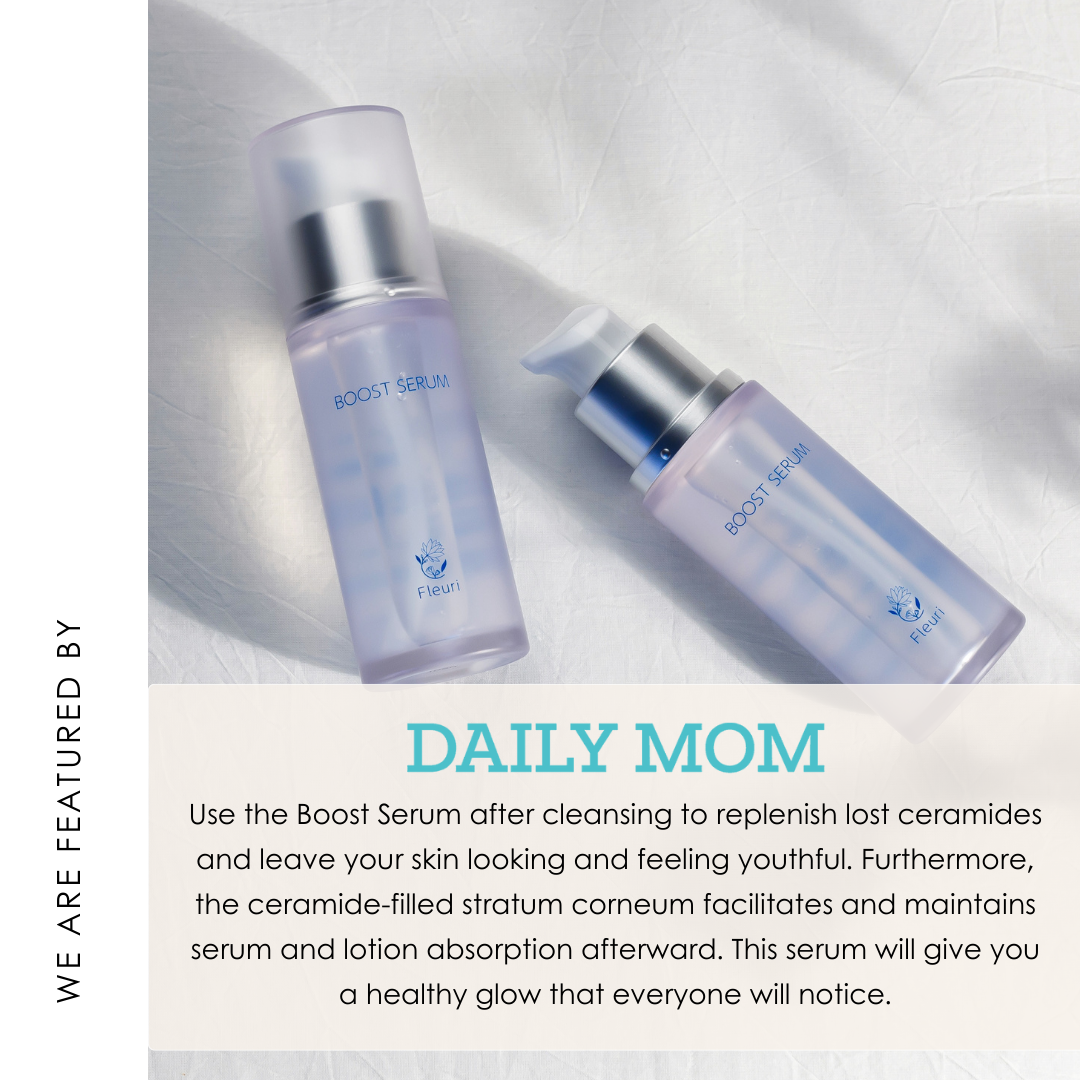 STEP1: Clear Gel Cleanse
Remove oil-based impurities such as makeup, sunscreen, excess keratin, and blackheads.
SHOP NOW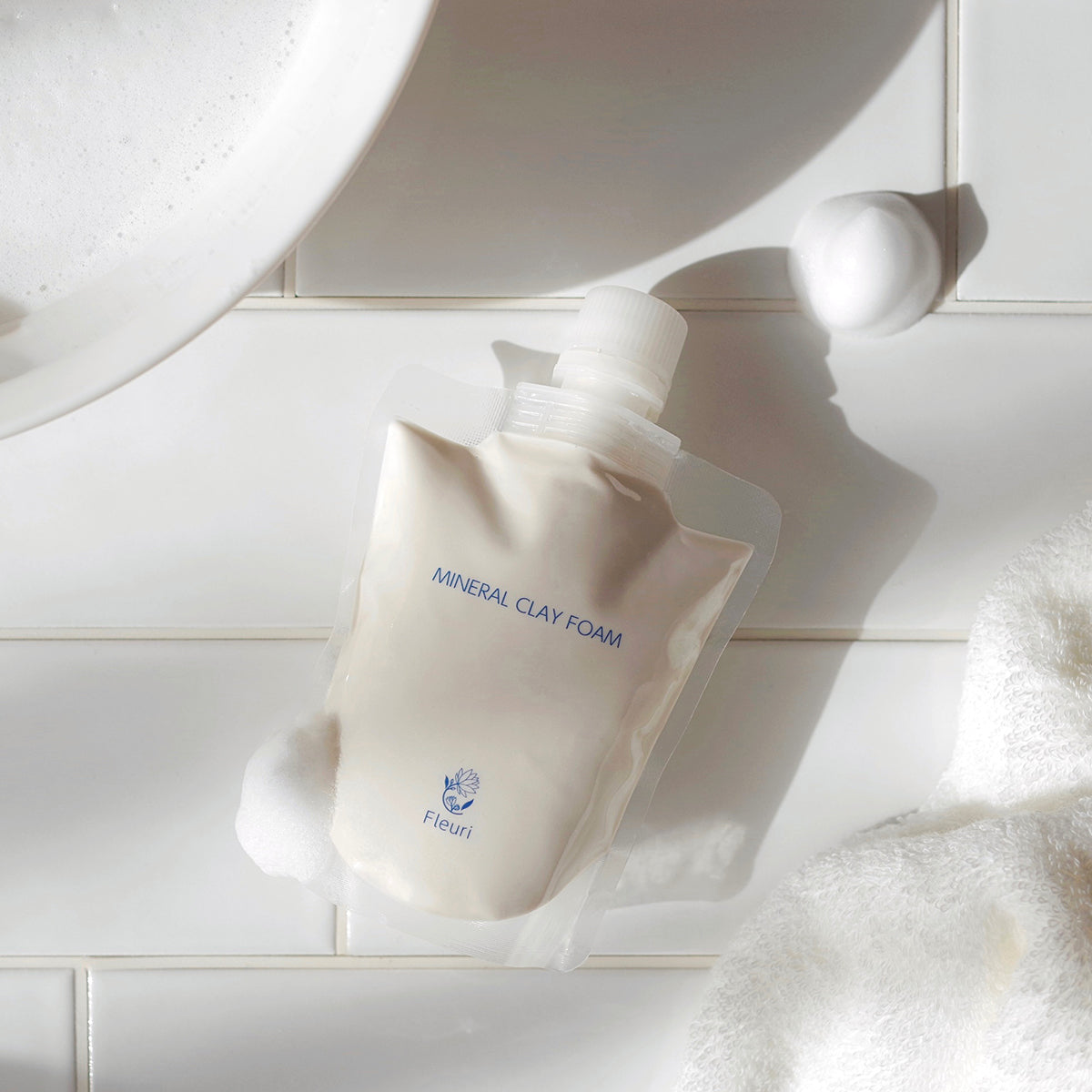 STEP2: Mineral Clay Foam
Effortlessly eliminate excess sebum, slough away dead skin cells, and banish impurities from your bare skin.
SHOP NOW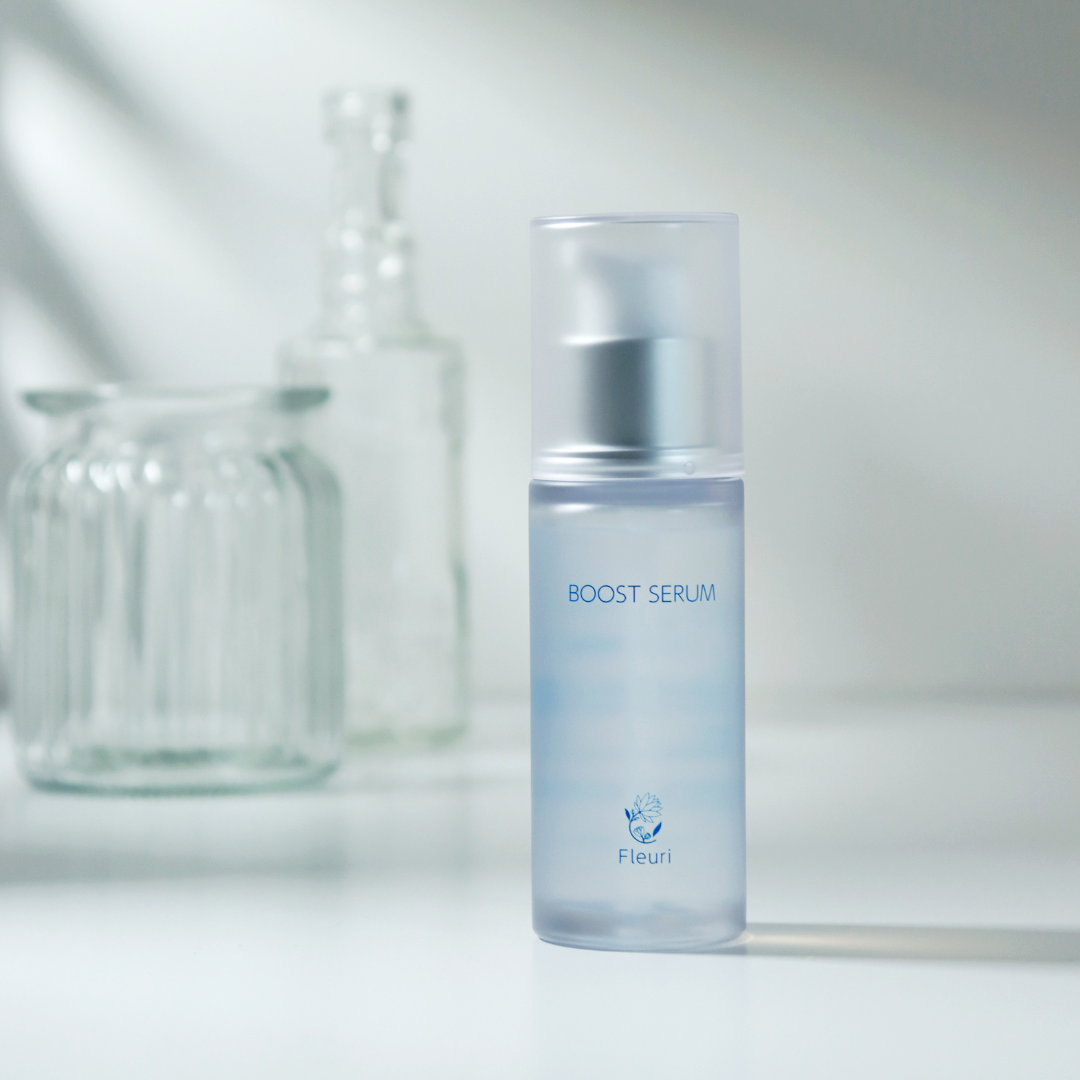 STEP3: Boost Serum
Promotes plump, soft skin by infusing the stratum corneum with nourishing ceramide. Enhances the absorption of lotions and serums.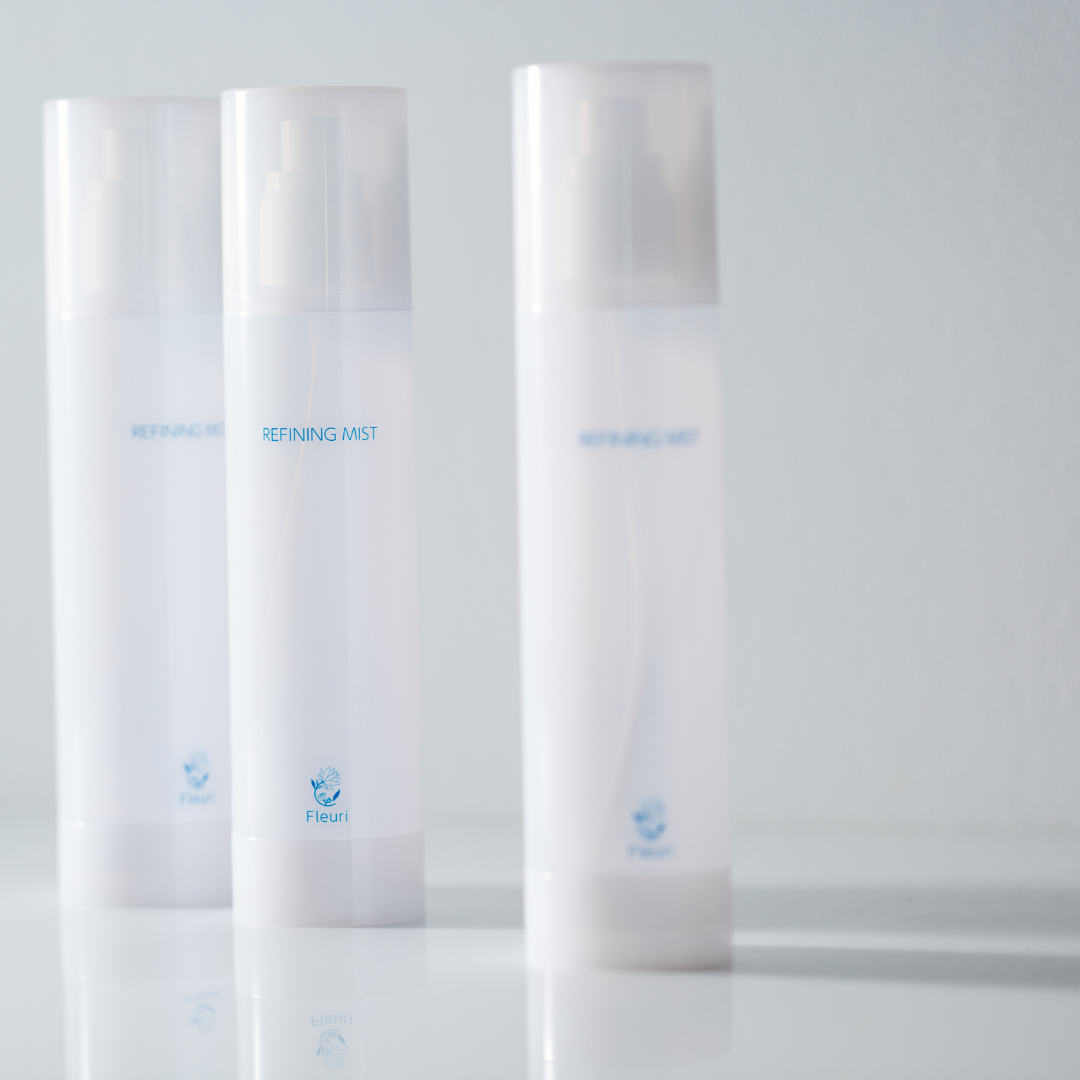 STEP4: Refining Mist
Enriched with over 25 minerals, our high-quality natural water supports your skin's natural functions, helping you achieve healthy and beautiful results.
SHOP NOW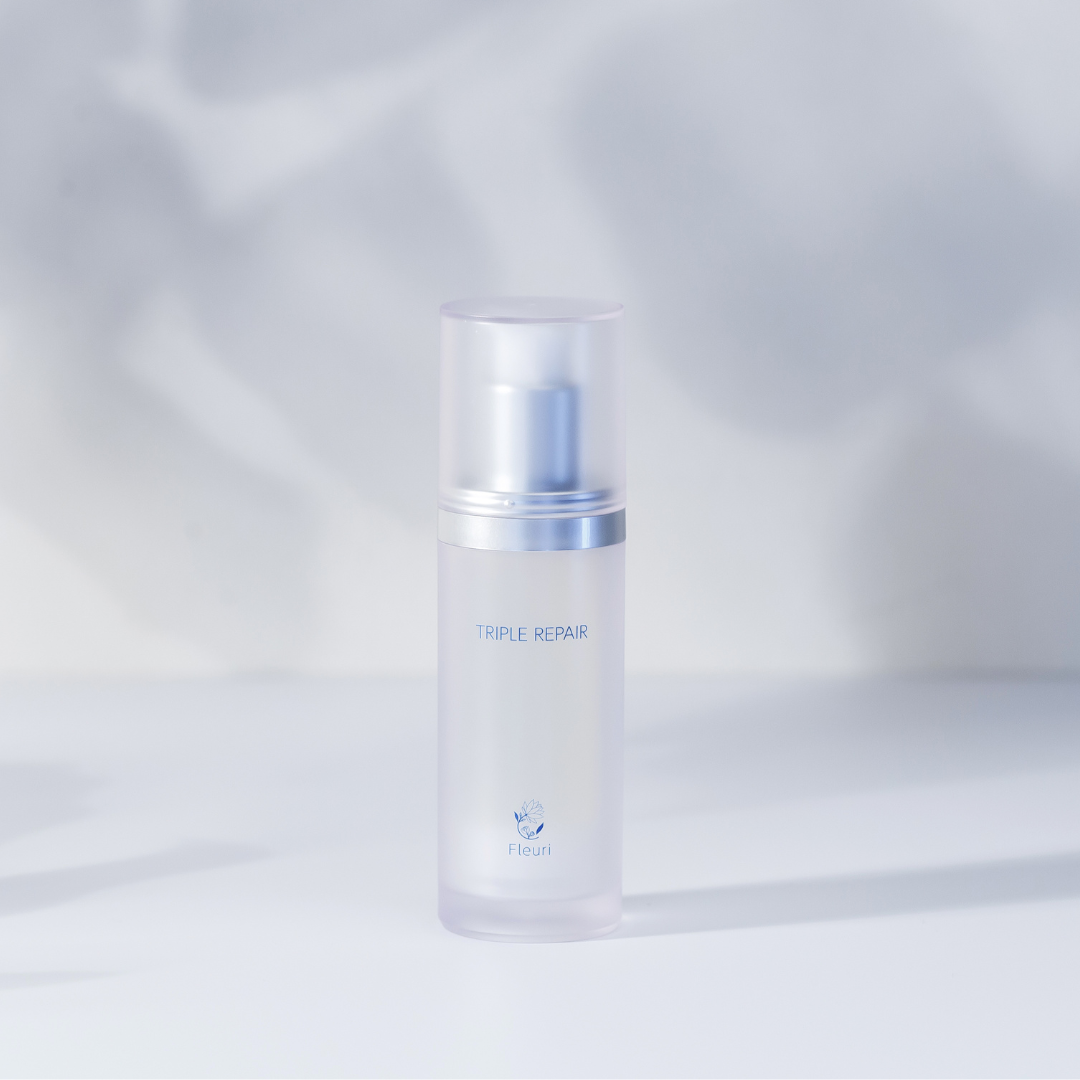 STEP5: Triple Repair
The main ingredients, including human oligopeptide, hyaluronic acid, and collagen, gently nourish your skin, promoting resilience and a radiant glow.
SHOP NOW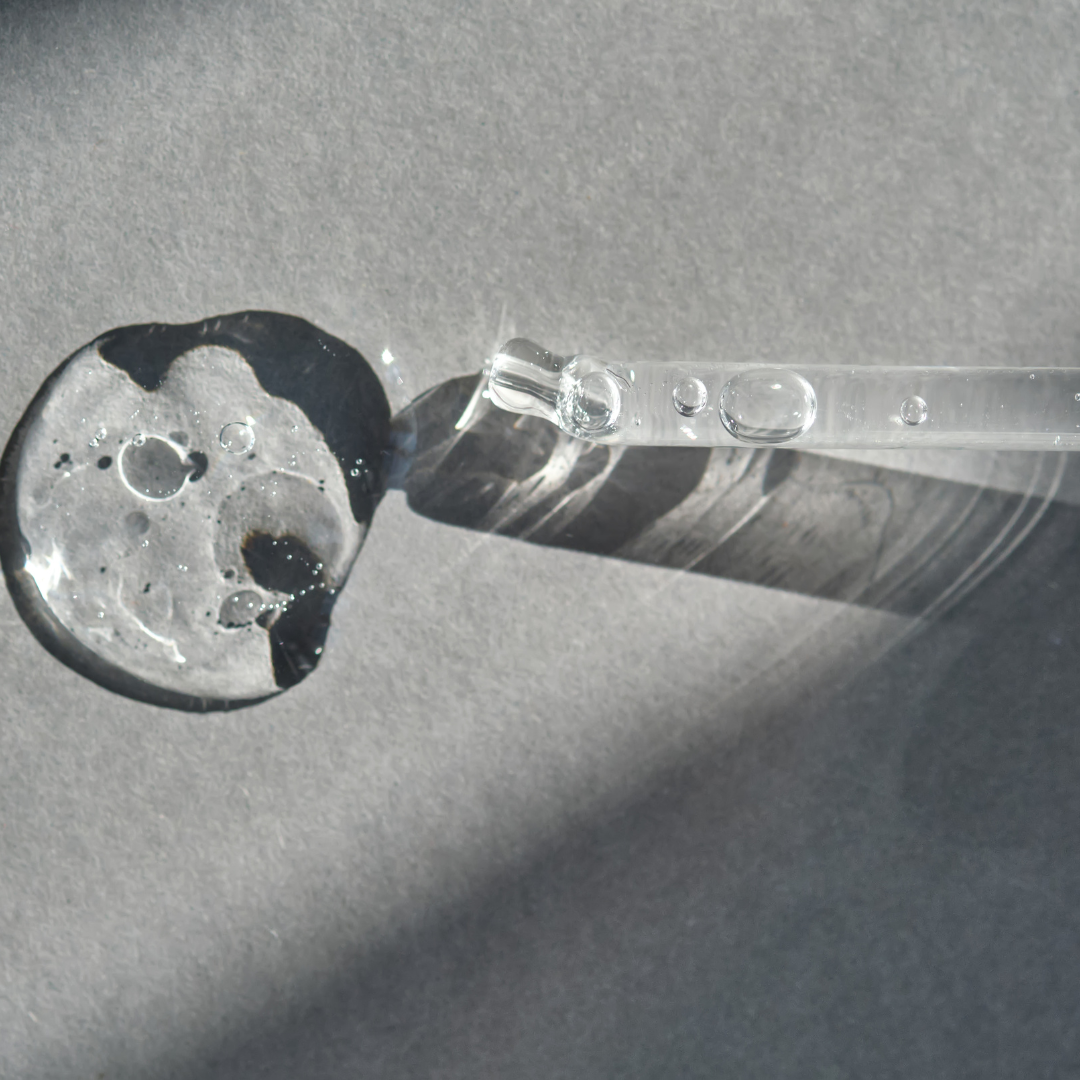 REPLENISH CERAMIDE
Ceramides are considered to play a key function in both retaining moisture and protecting the skin from external stimuli. However, ceramides in human skin gradually decrease with age, researches has shown that by the time of 50s the amount of ceramides will be the half of 20s. Based on the fact, the high-quality ceramides have developed in Japan over many years. Our proprietary ceramides can penetrate the skin without compromising its function and retain moisture longer, leaving the skin firm and hydrated.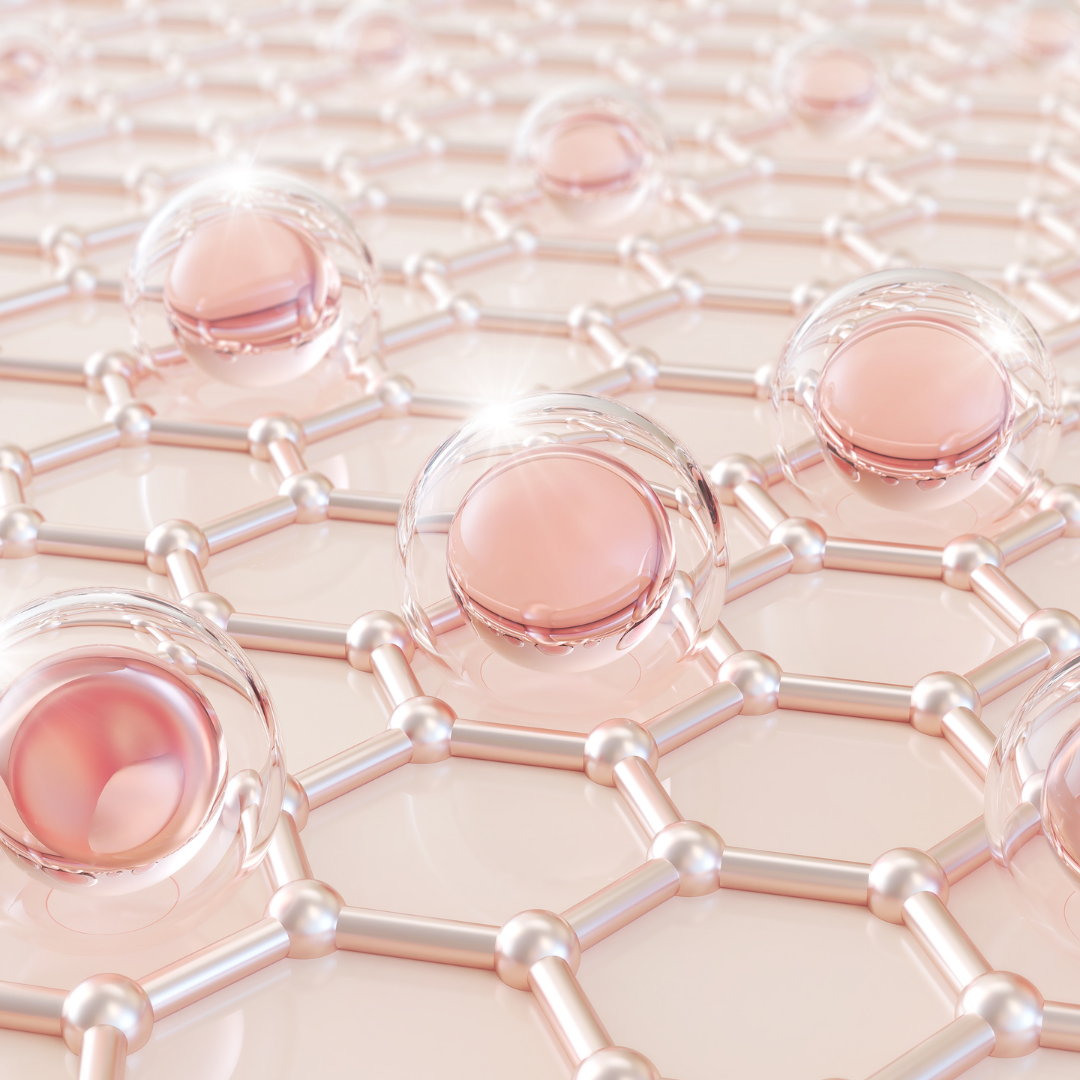 STRENGTHEN SKIN BARRIER
Skin with ceramide loss is difficult to get skincare benefits even with effective formulations. There is a high possibility that the formula will not penetrate deep into the skin and evaporate due to dryness. So the key is to fill the stratum corneum with ceramide first and create a base for toners and serums to get the maximum effects. Our Boost Serum works to promote deeper penetration of toners and serums for lasting results.
Great Serum
I love Japanese skin care and this is one of the best!
Sensitive skin friendly and works great.
Ita?s pricey but all you need is 2 pumps and last long time.
I have sensitive dry skin and this doesna?t cause any irritation or redness but make my skin smooth and well hydrate.
If you have sensitive skin, this is highly recommended!!!
Gentle and lightweight
This is a gentle and lightweight day serum for sensitive skins. Very soft and subtle feel on the face without leaving a residue. Non-irritating. Great for oily or combination skins.
Recommended
Very light serum which left my sensitive skin clear and feeling silky
My Skin Type: Pale, dry, sun-damaged, sensitive, prone to redness
My AM Facial Routine: Wash/exfoliate, serum, moisturizer with SPF
My PM Facial Routine: Wash, serum, heavier overnight moisturizer
My Review of this product:
Pros: Very lightweight-almost as thin as water, no discernable scent, absorbs quickly into skin, no stickiness after application, left skin feeling incredibly silky, works well under regular moisturizer, attractive bottle would look nice on any vanity
Cons: The waterlike viscosity makes it a little difficult to apply so you end up using more than necessary. It's relatively expensive for the size bottle and the amount you need to apply
Very Nice
Incredibly nice for people with sensitive skin. It's one of my go-to serums because it helps to soften my skin without dryness or irritation. It's lightweight and it absorbs quickly and it hydrates and nourishes really well.
Hydrated Skin
This review is for Fleuri - Boost Serum.
I have super sensitive combination skin and this worked wonders on me.
The serum itself feels luxurious. It takes a while to absorb, but when it does it doesn't leave you looking greasy or shiny. Say goodbye to dry patches because this product hydrates unbelievably well.
A serum splurge
This serum by Fleuri is a splurge skincare item but it does feel lovely on the skin. I have combination sensitive skin and the dry, cold months leave my skin feeling so dry. This serum works well to hydrate gradually, leaving my skin feeling softer, supple and well hydrated. I like that the serum also works in hot humid weather. I used it while traveling in Asia and it doesn't feel heavy in hot and humid weather.
Excellent
This serum is excellent.
Great ingredients to help provide nourishment for daily use.
A bit expensive, but has premium ingredients.
Used half of bottle so fara| works great on my skin
Before I start to use, I thought it is too pricey. However, it actually works great on my skin. I consider it is similar to SK-II facial treatment plus gives a bit more moist to the skin. I just need to use one pump each time , so it last longer that I expected. The bottle and pump is good quality. I will get another one after I run out of it. I use it with my La Mer cream and they are so far wonderful combination for my very dry and sensitive skin.