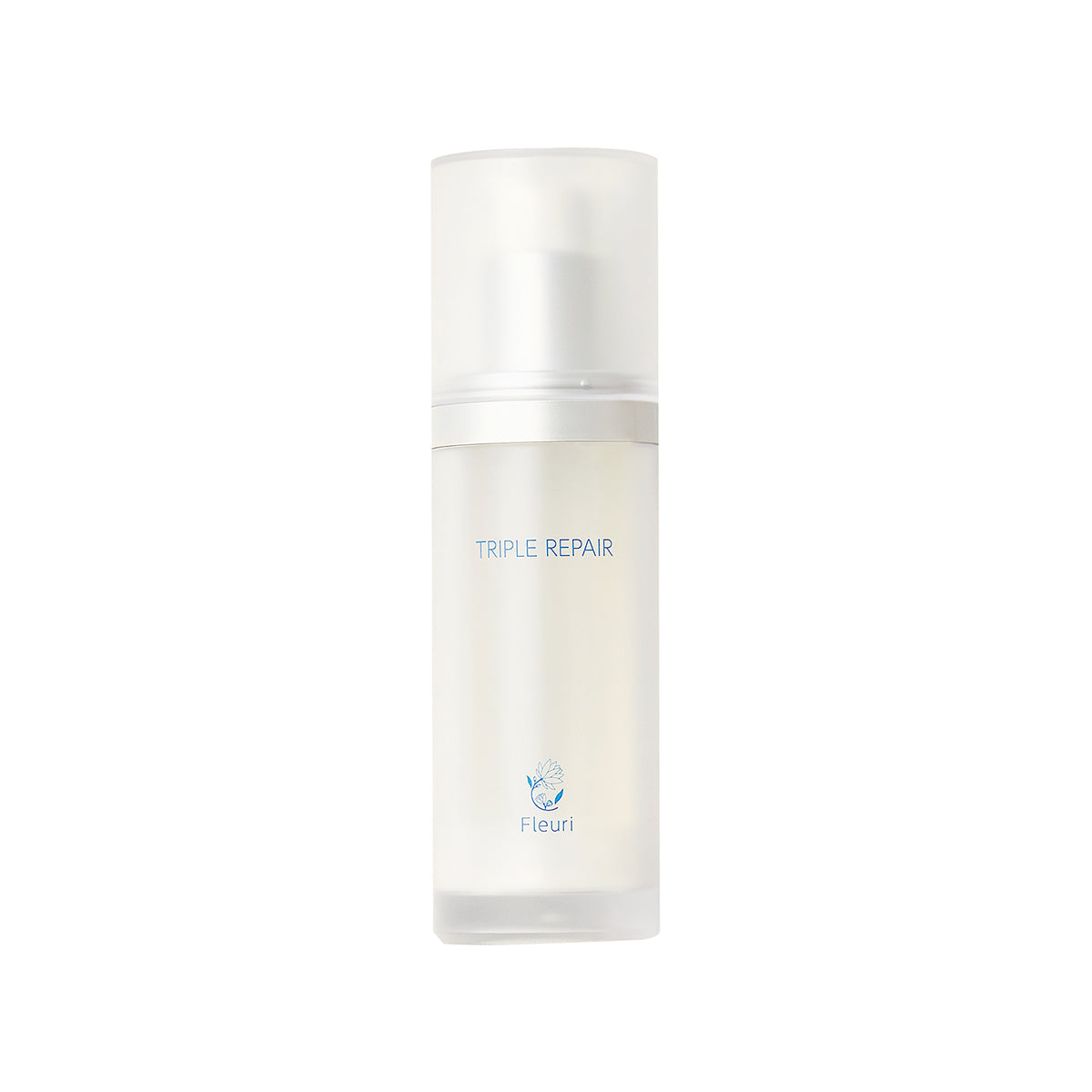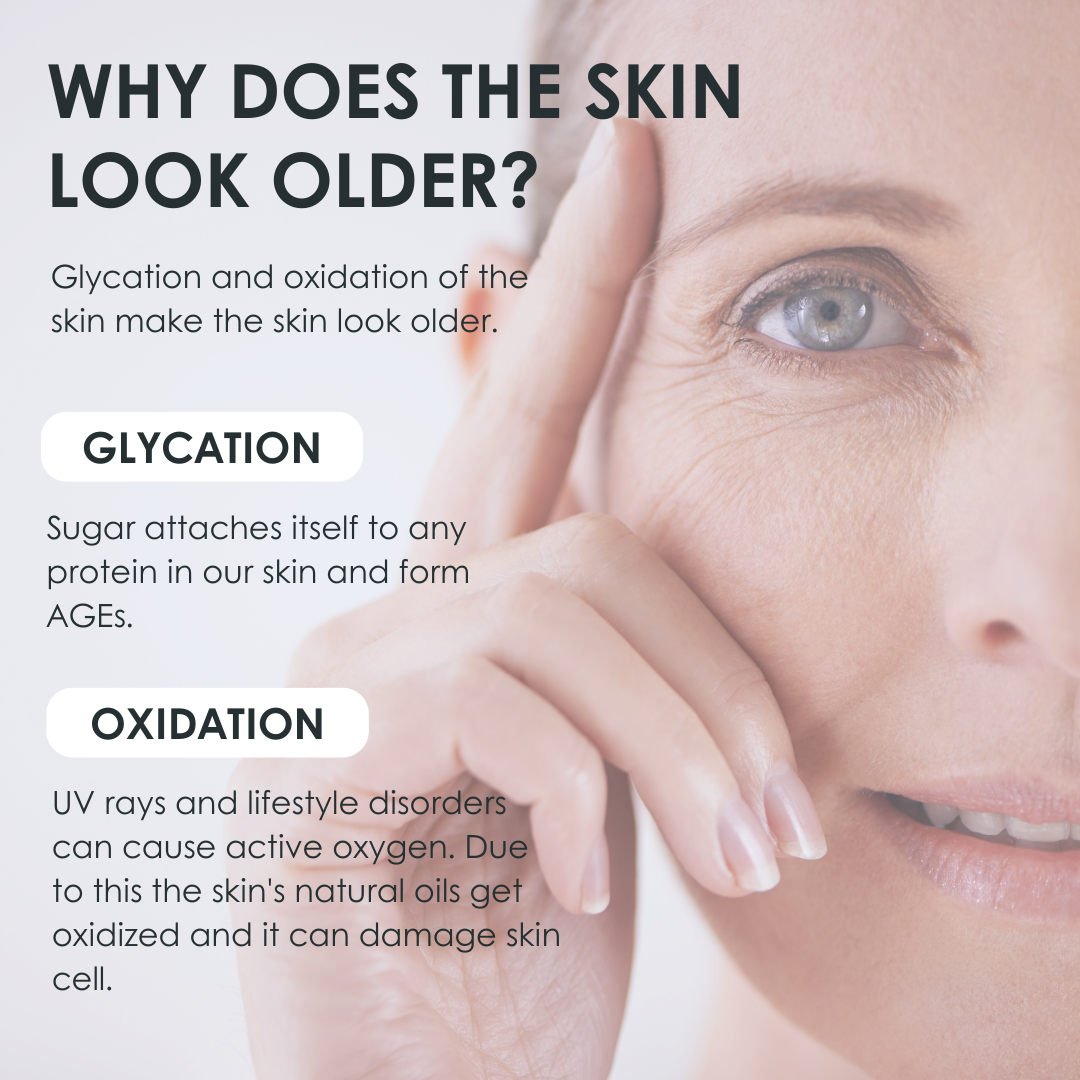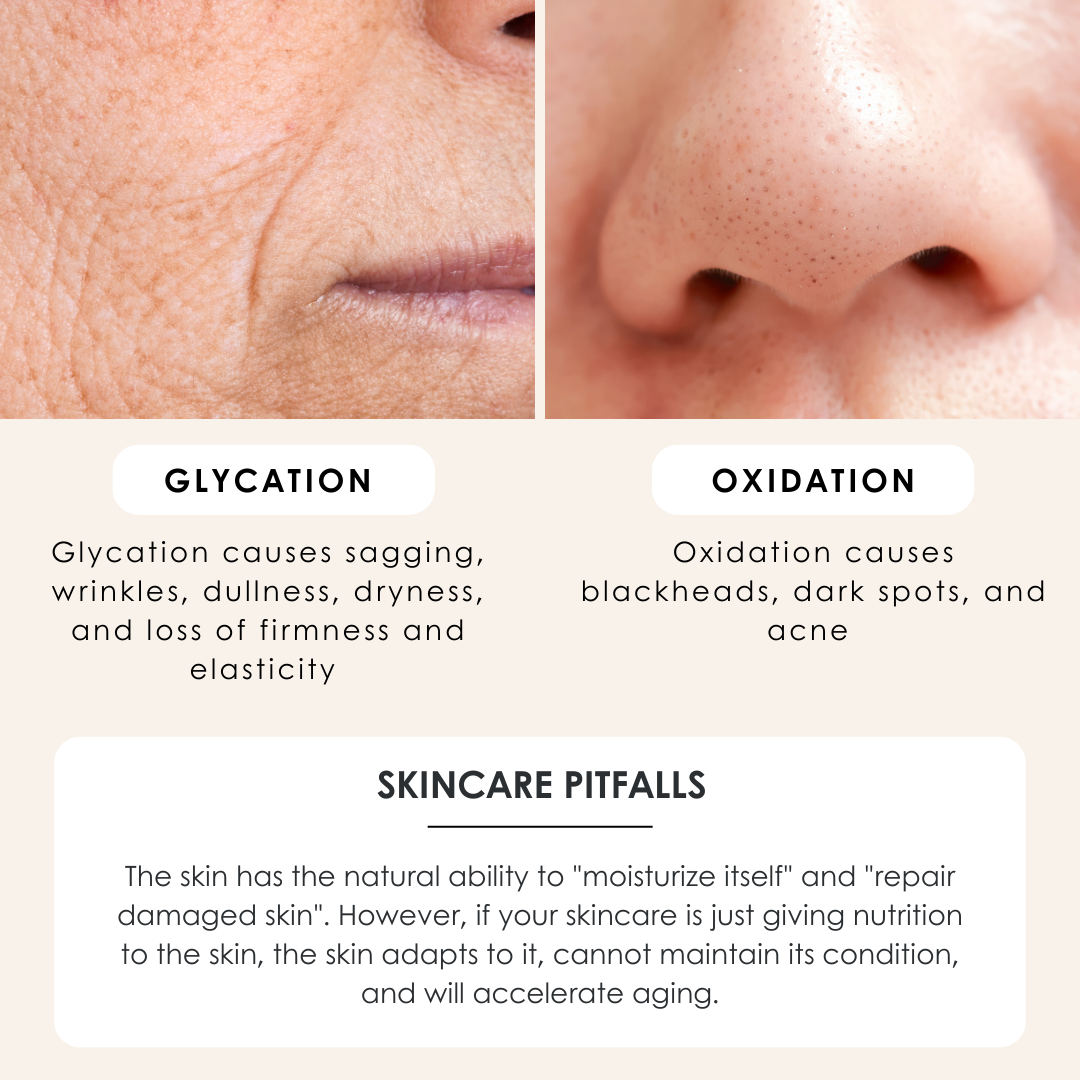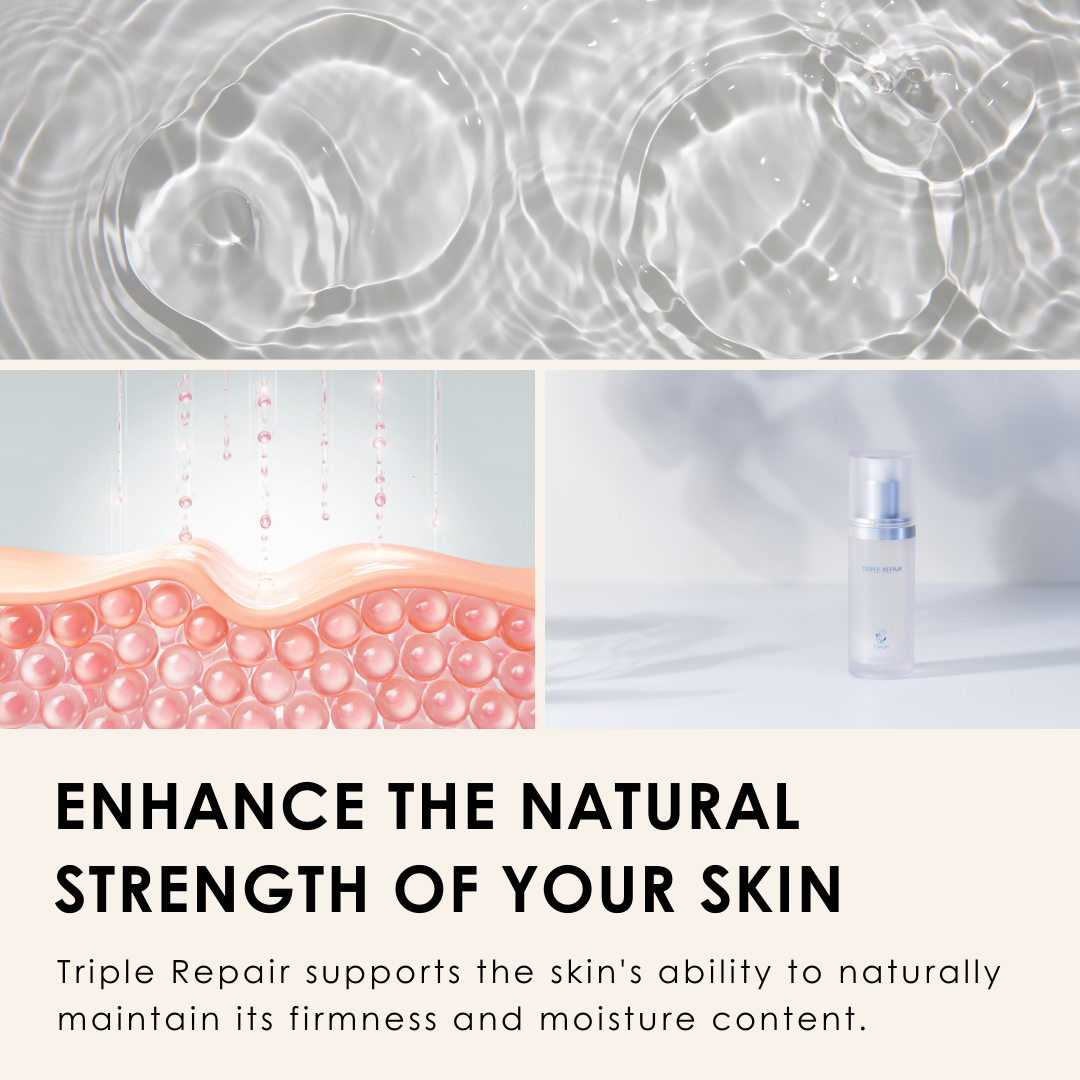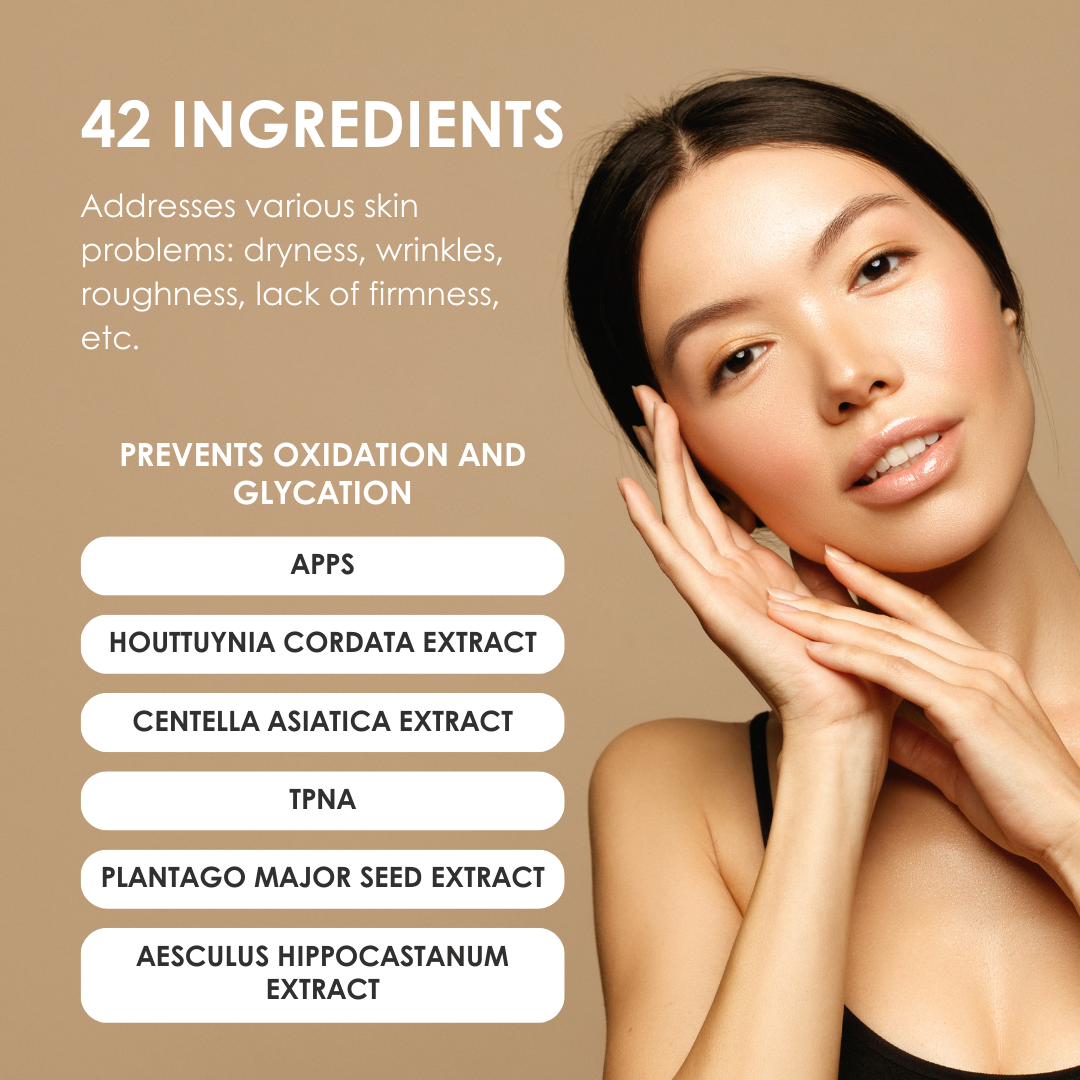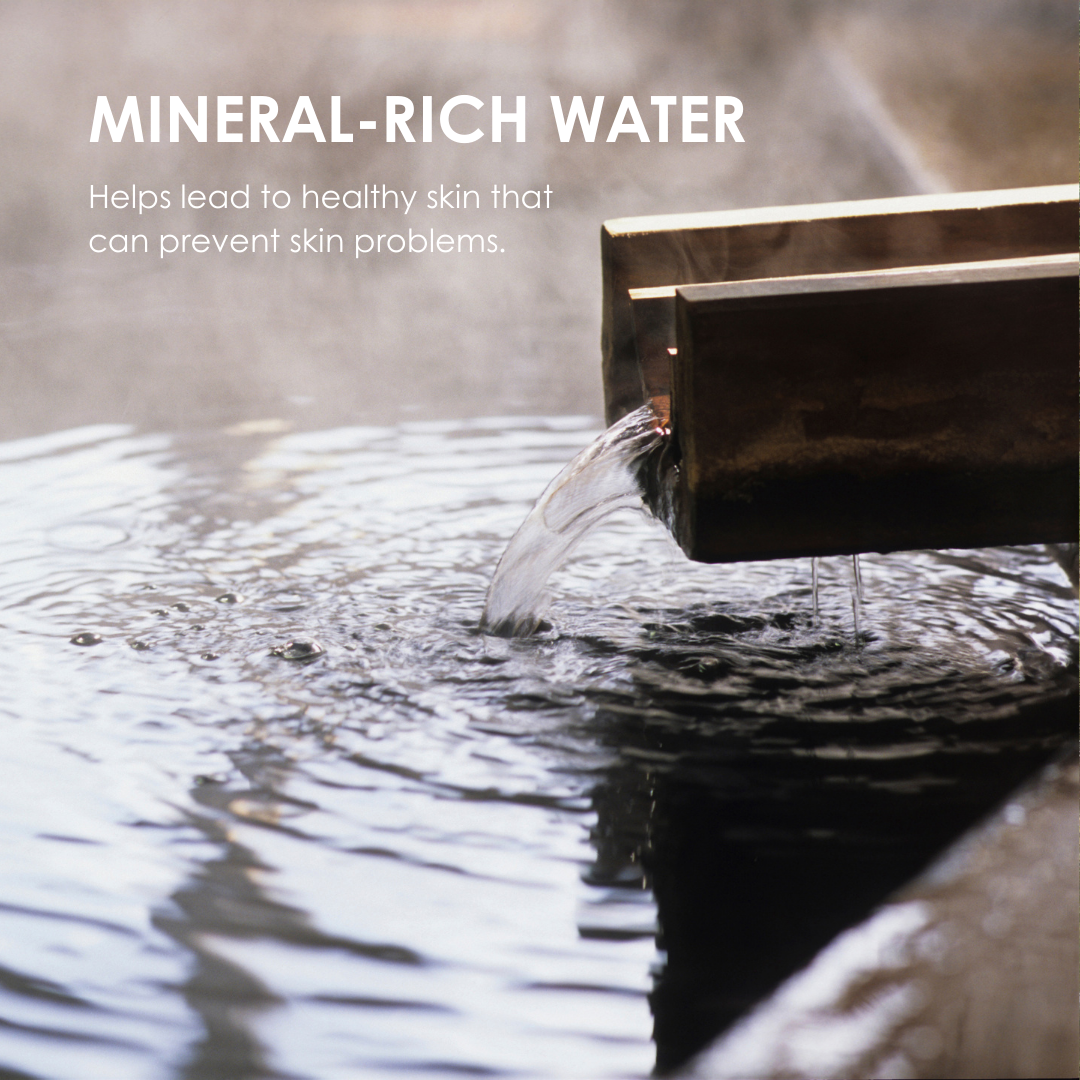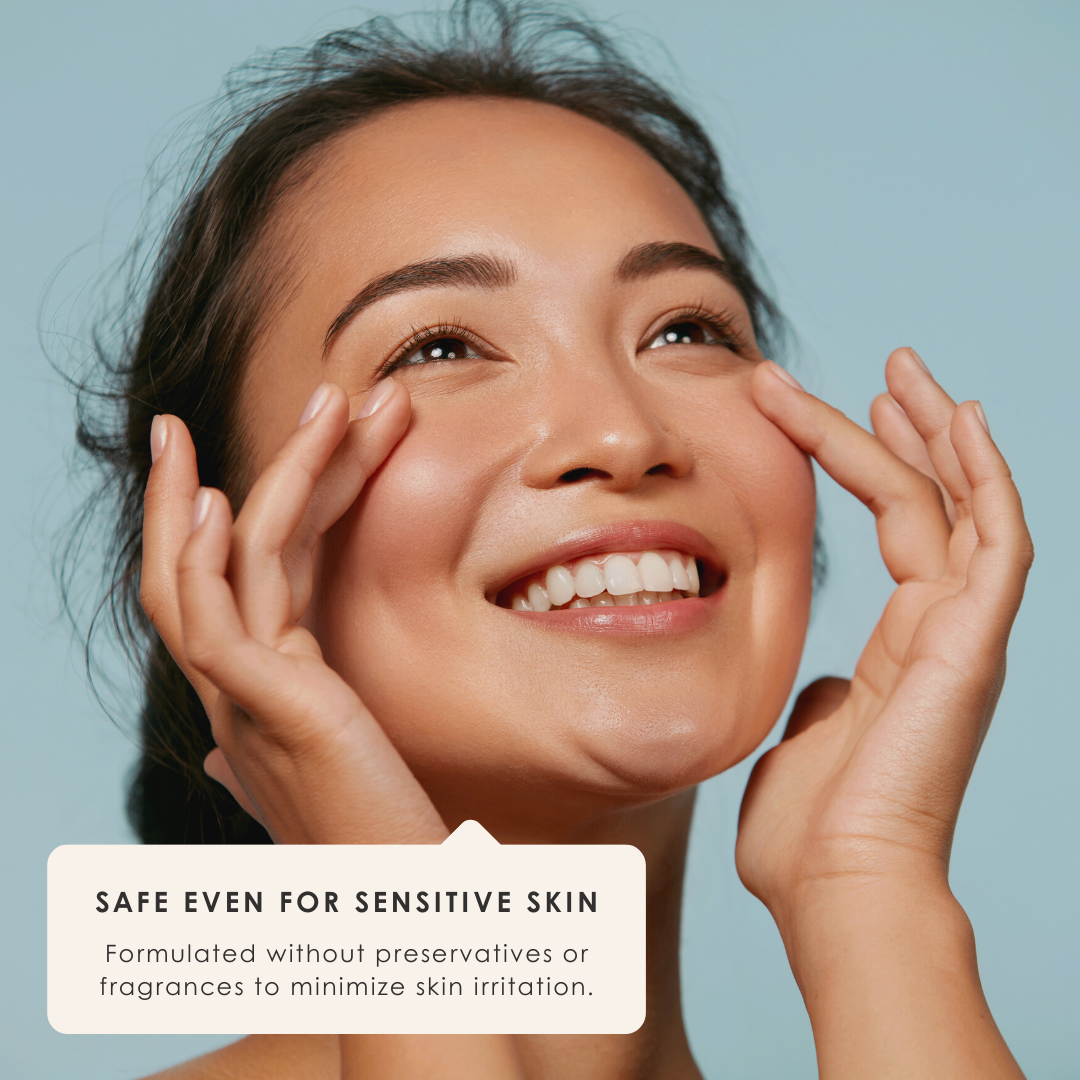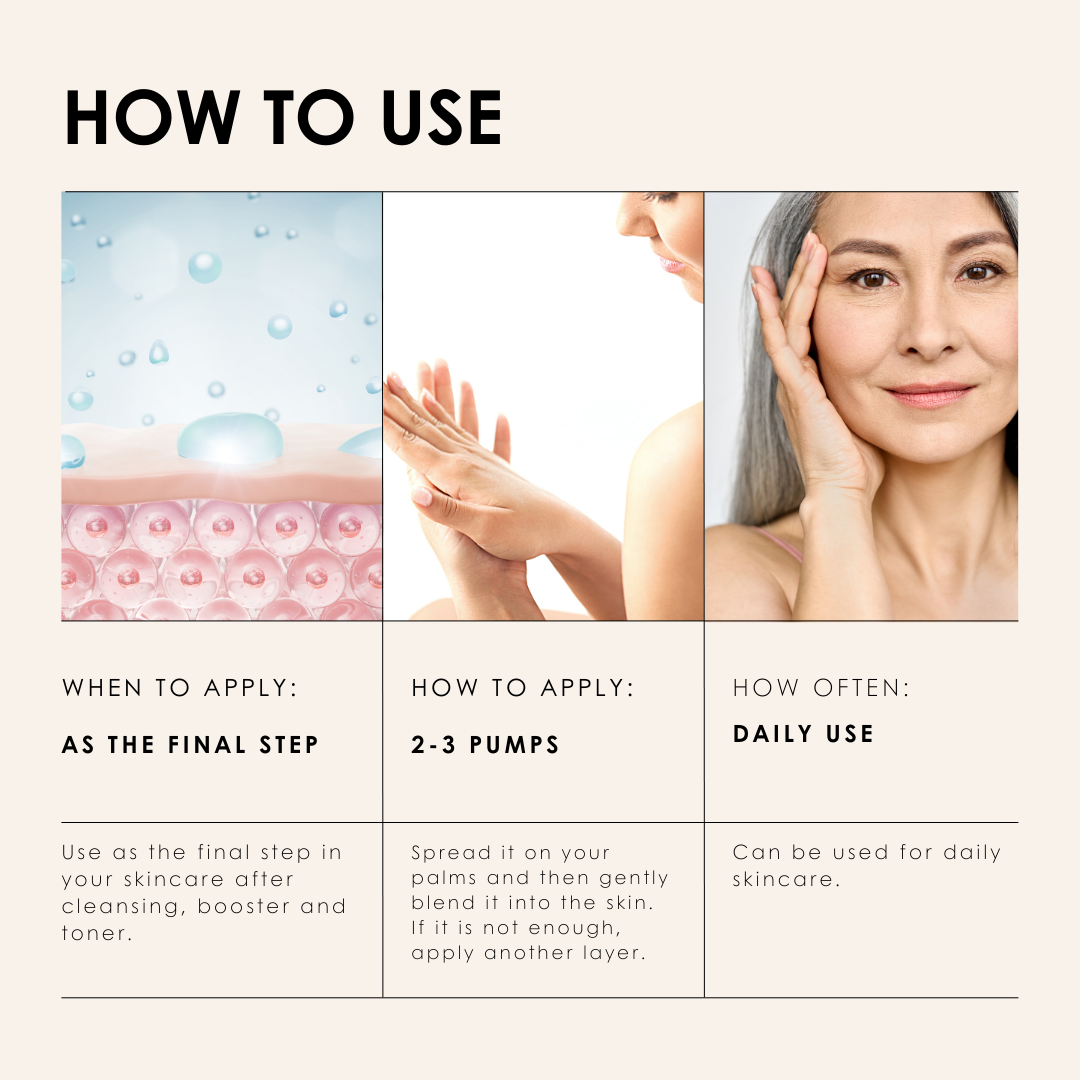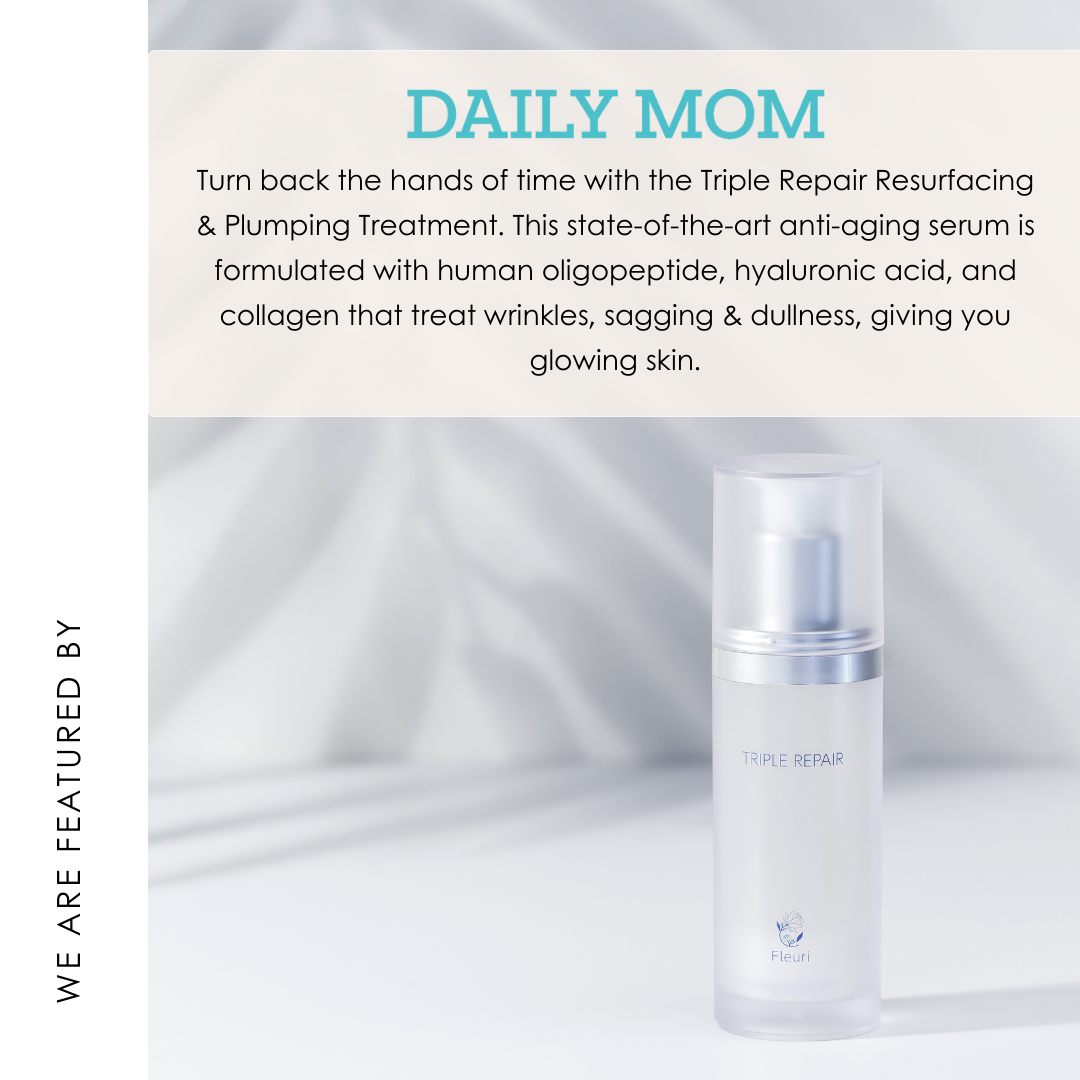 TRIPLE REPAIR -Resurfacing & Plumping Treatment-
The purpose of Triple Repair is to support the skin's ability to naturally maintain its elasticity and moisture level, which decline with age, even 5 and 10 years later. The main ingredients of this serum are human oligopeptide, hyaluronic acid, and collagen. Formulated with mineral-rich water that helps the ingredients penetrate deep into the skin and maximize the effects, leading to firm, healthy-looking skin.
30 ml / 1.0 fl oz
RECOMMENDED FOR: All Skin Types
---
Sale price

$130.00
Regular price

$130.00
(/)
Details

Why is it effective?

5 types of peptides directly address the causes of aging and help support skin strength.

Acetyldecapeptide-3: Increases firmness, elasticity, and transparency

Oligopeptide-34: Prevents dullness and rough skin

Oligopeptide-20: Prevents crows feet, wrinkles and loss of firmness

Oligopeptide-24: Improves healthy skin metabolism

Caprooyl Tetrapeptide-3: Anti-aging care
Ingredients

Aacetylated Hyaluronate Na

An ingredient with excellent moisturizing properties often found in high-quality Japanese cosmetics. By introducing acetyl groups into hydrophilic hyaluronic acid, the moisturizing effect on keratin is about 2x more than normal hyaluronic acid. It also has lower molecular weight, which allows it to blend well with the skin.

APPS

One of the most popular vitamin C derivatives among many Japanese women. It helps improve wrinkles and dark circles around the eyes. It is known to have 100x more penetration power than conventional vitamin C derivatives, and also works to improve skin elasticity while supporting collagen.

Houttuynia Cordata Extract

Houttuynia Cordata is a natural material that has been used in Japan for a long time for various purposes, including using it for tea as well as for beauty. It has anti-inflammatory properties, removes oxidized sebum, and helps refresh the skin.

Japanese Water

Water is deeply connected with Beauty in Japanese culture, as typified by hot springs. This Triple Repair contains the same packaged water as the Refining Mist which is high-quality natural Japanese water without adding any preservatives or additives. This high-quality water contains abundant minerals, which calm disturbed skin, promote moisturizing effects, and lead to healthy and supple skin. In Japan, people have long believed in this mystical power of nature, and the effects of high-quality water expanded to many specialized dermatology institutes.

Full ingredient list

Water, BG, 3Na ascorbyl phosphate palmitate, Na tocopheryl phosphate, oligopeptide-24, oligopeptide-20, acetyl octapeptide-3, oligopeptide-34, caprooyl tetrapeptide-3, glycerin, dextran, horse chestnut seed extract, plantago major leaf extract, Houttuynia cordata extract, humic soil extract, Centella asiatica extract, honeysuckle flower extract, grapefruit fruit extract, soybean seed extract, tocopherol, 2K glycyrrhizic acid, taurine, lysine HCl, glutamic acid, glycine, leucine, histidine HCl, serine, valine, aspartate Na, threonine, alanine, isoleucine, allantoin, phenylalanine, arginine, proline, tyrosine, 2Na inosinate, 2Na guanylate Na, sodium acetyl hyaluronate, hydrolyzed collagen, hydrolyzed elastin, hydrogenated lecithin, hydrolyzed silk, K phosphate, 2Na phosphate, xanthan gum 2Na, xanthan gum, phytic acid, silver oxide

Formulated without

Oil, alcohol, artificial colors, paraben, phenoxyethanol, petroleum-based surfactants, artificial fragrance, antioxidant, mineral oil, UV absorber, preservatives, silicone, petrolatum, phthalate, sulfate, SLS, formaldehyde, urea, and palm oil
How to use

STEP 1: Spread Over the Palm of Hands

Dispense 2-3 pumps into the palm of your hands.

STEP 2: Massage and Blend

Gently apply the product to the entire face with your hands. Do not scrub or pat vigorously, but apply gently. If you feel it is not enough, apply another layer.

Texture : liquid

Fragrance : fragrance-free

pH : 8.2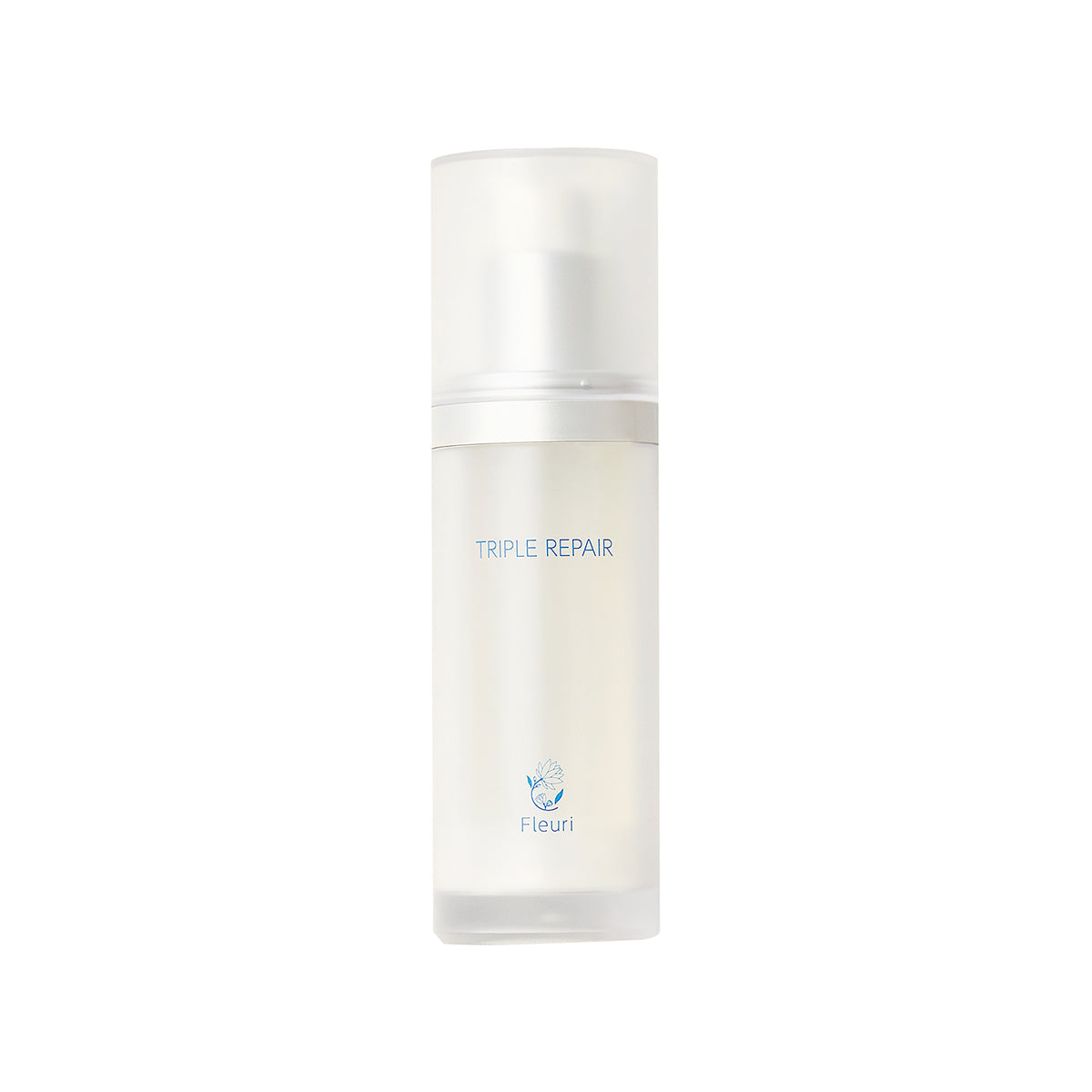 TRIPLE REPAIR -Resurfacing & Plumping Treatment-
Sale price

$130.00
Regular price

$130.00
Choose options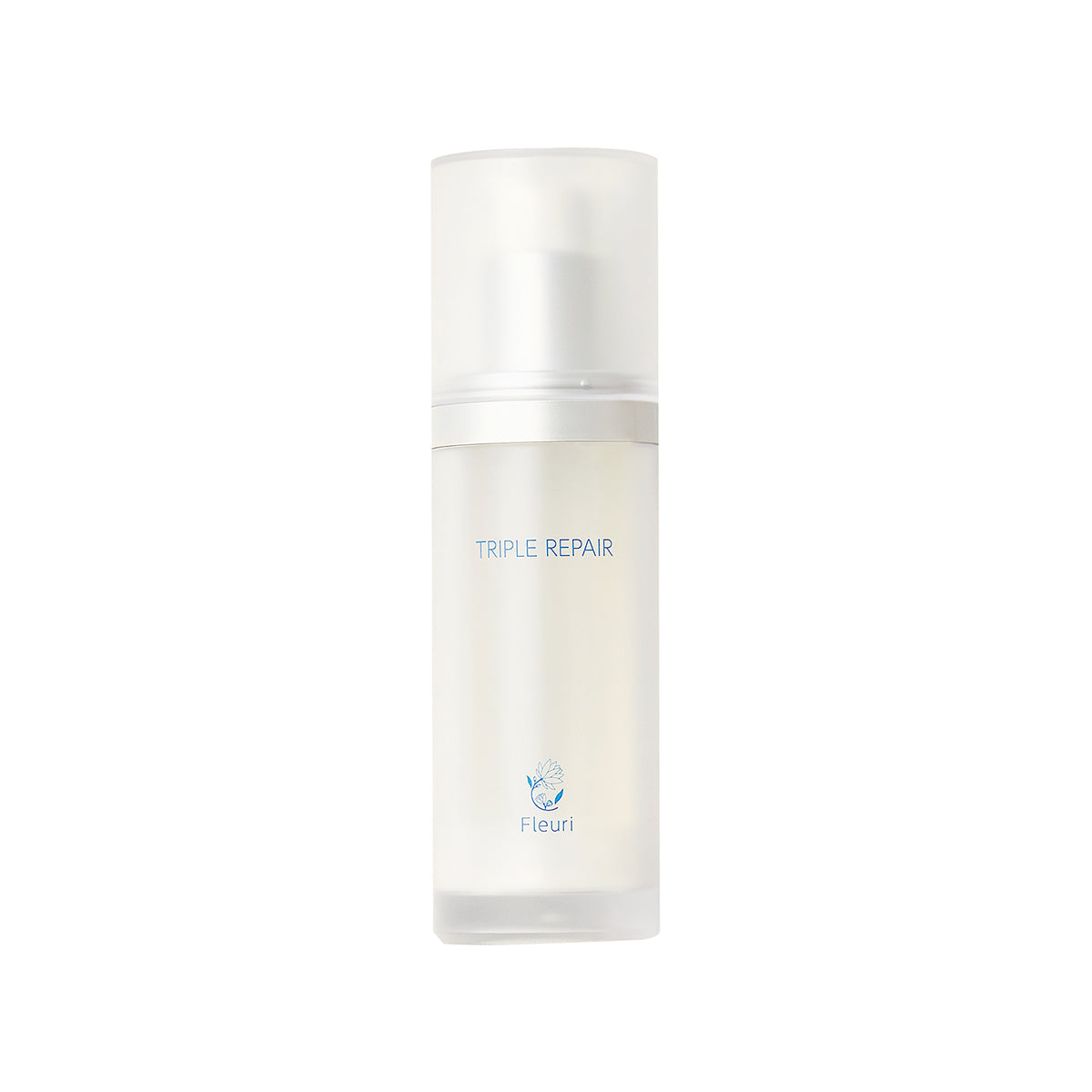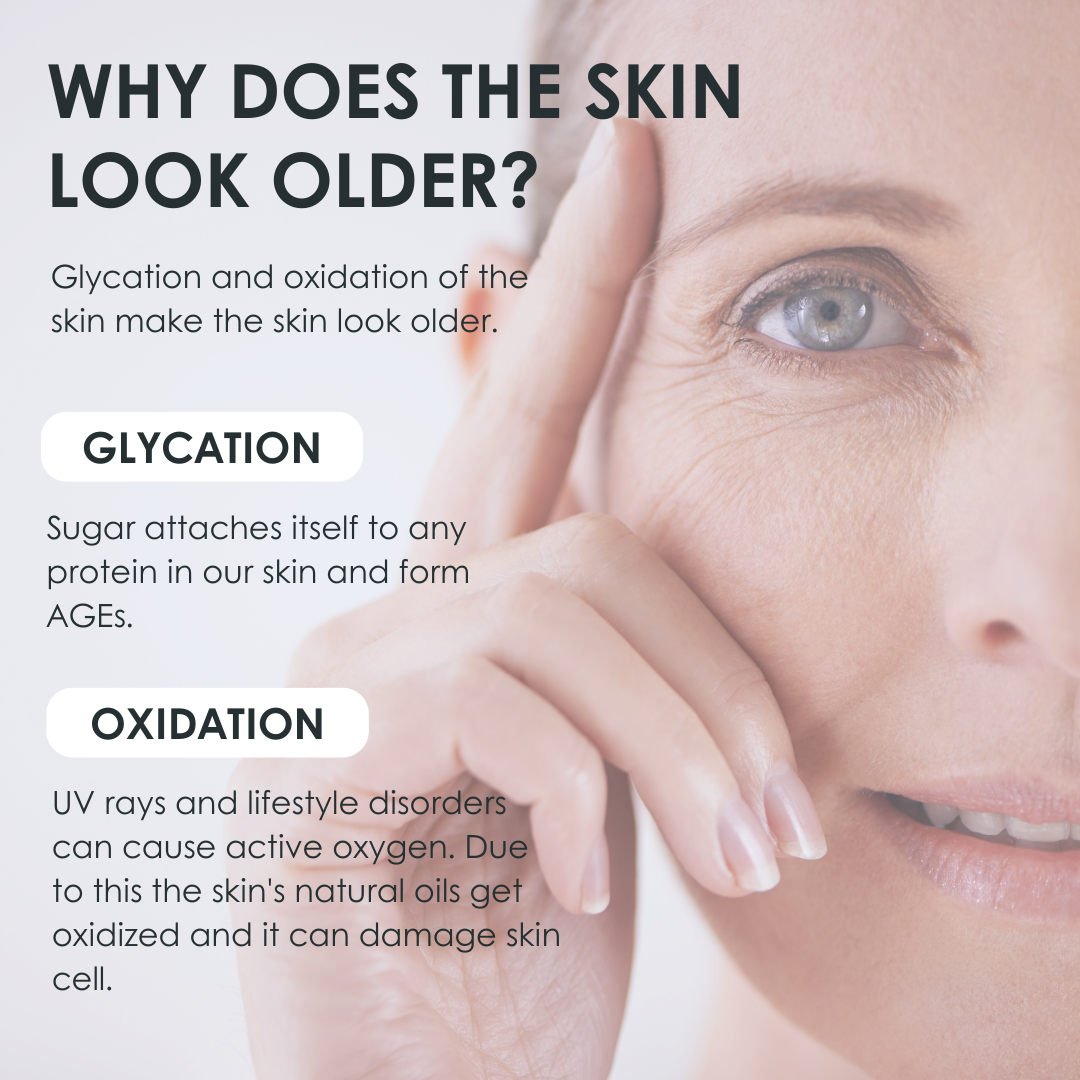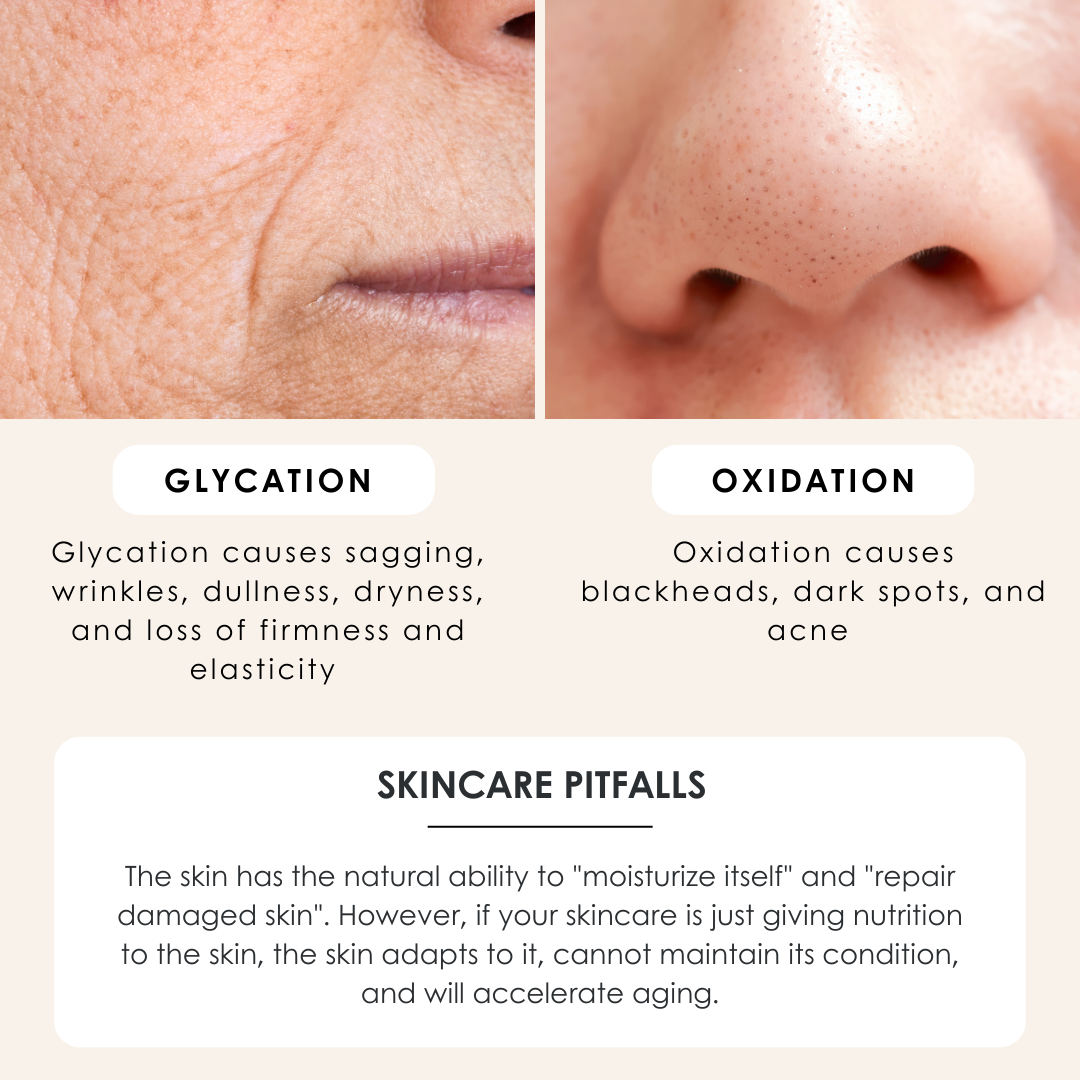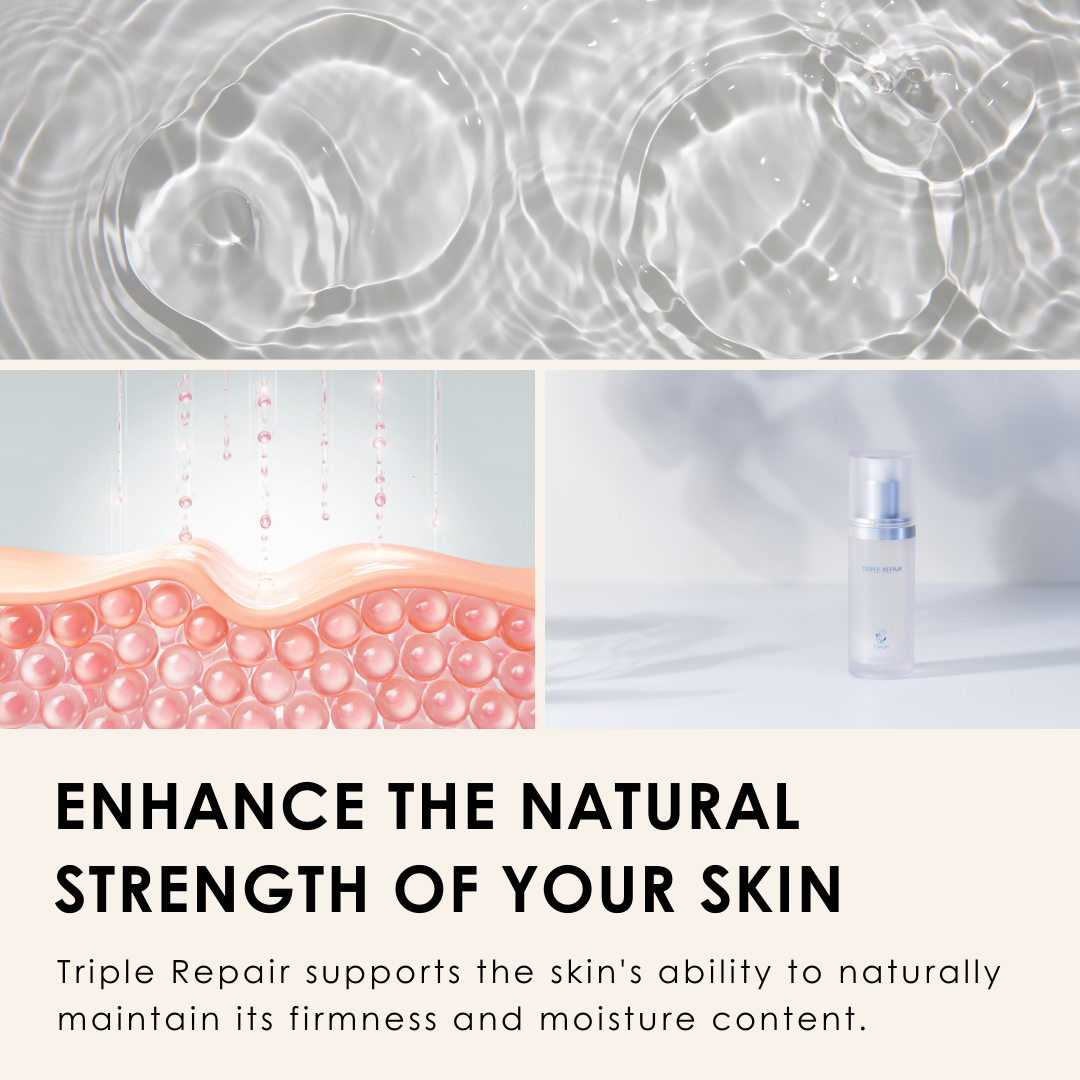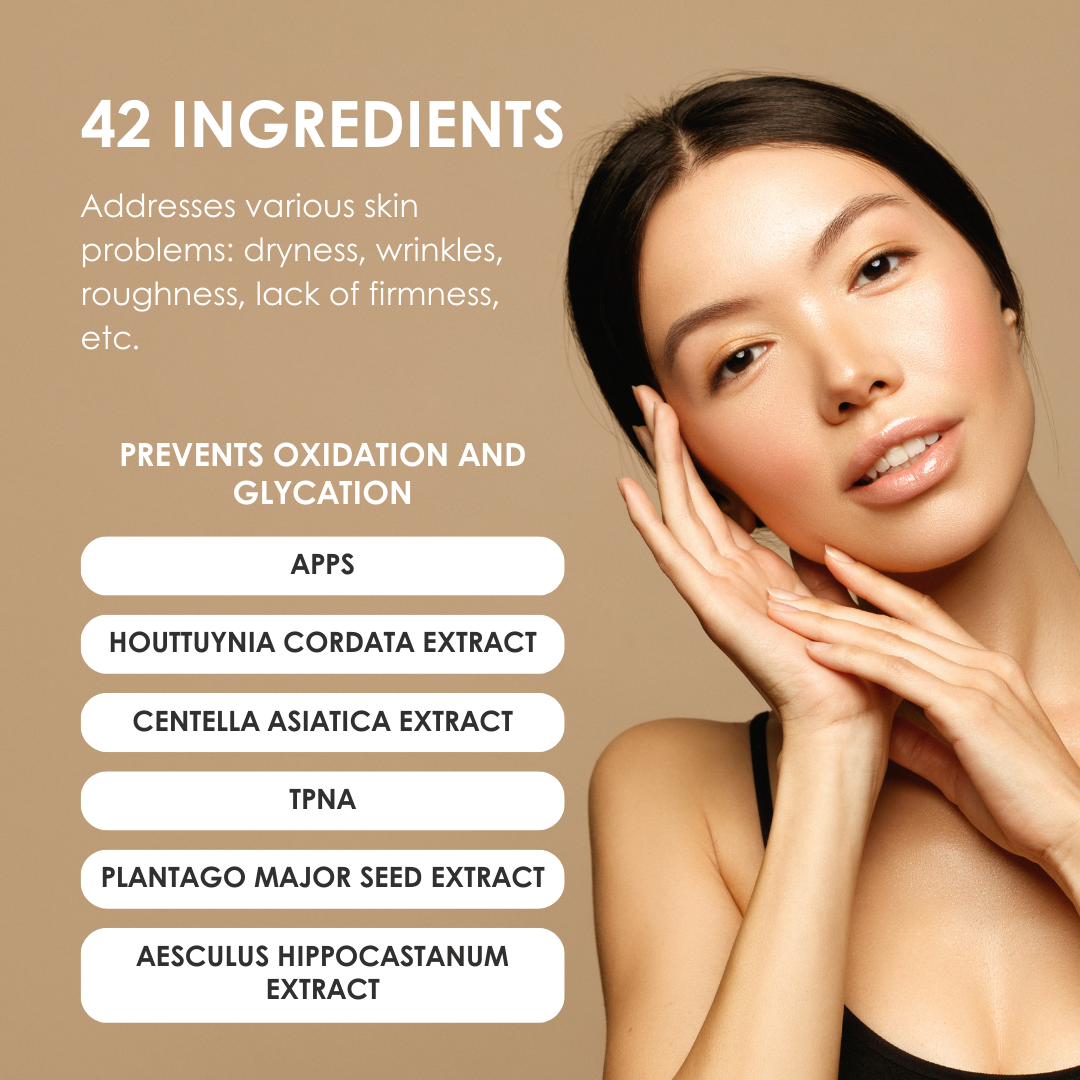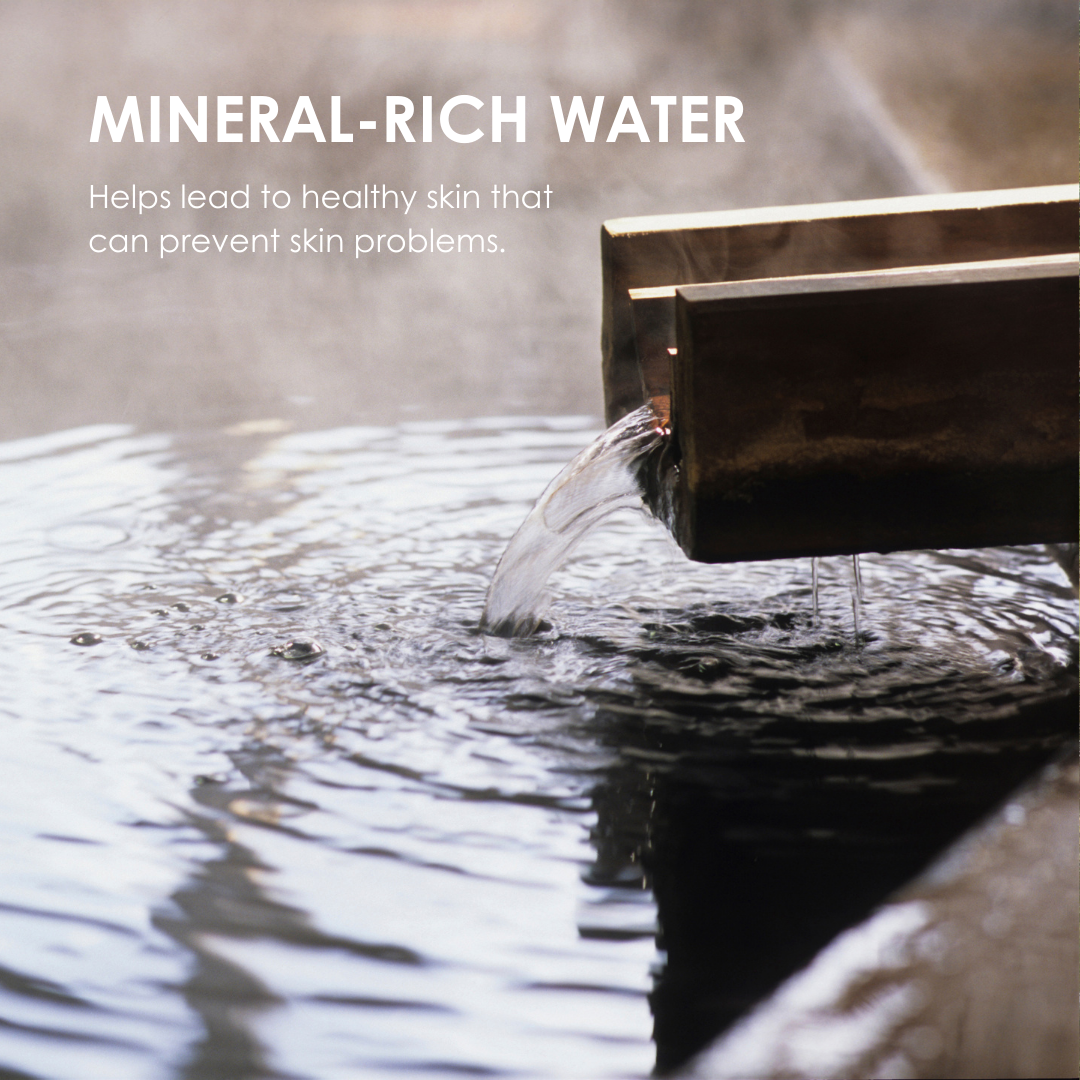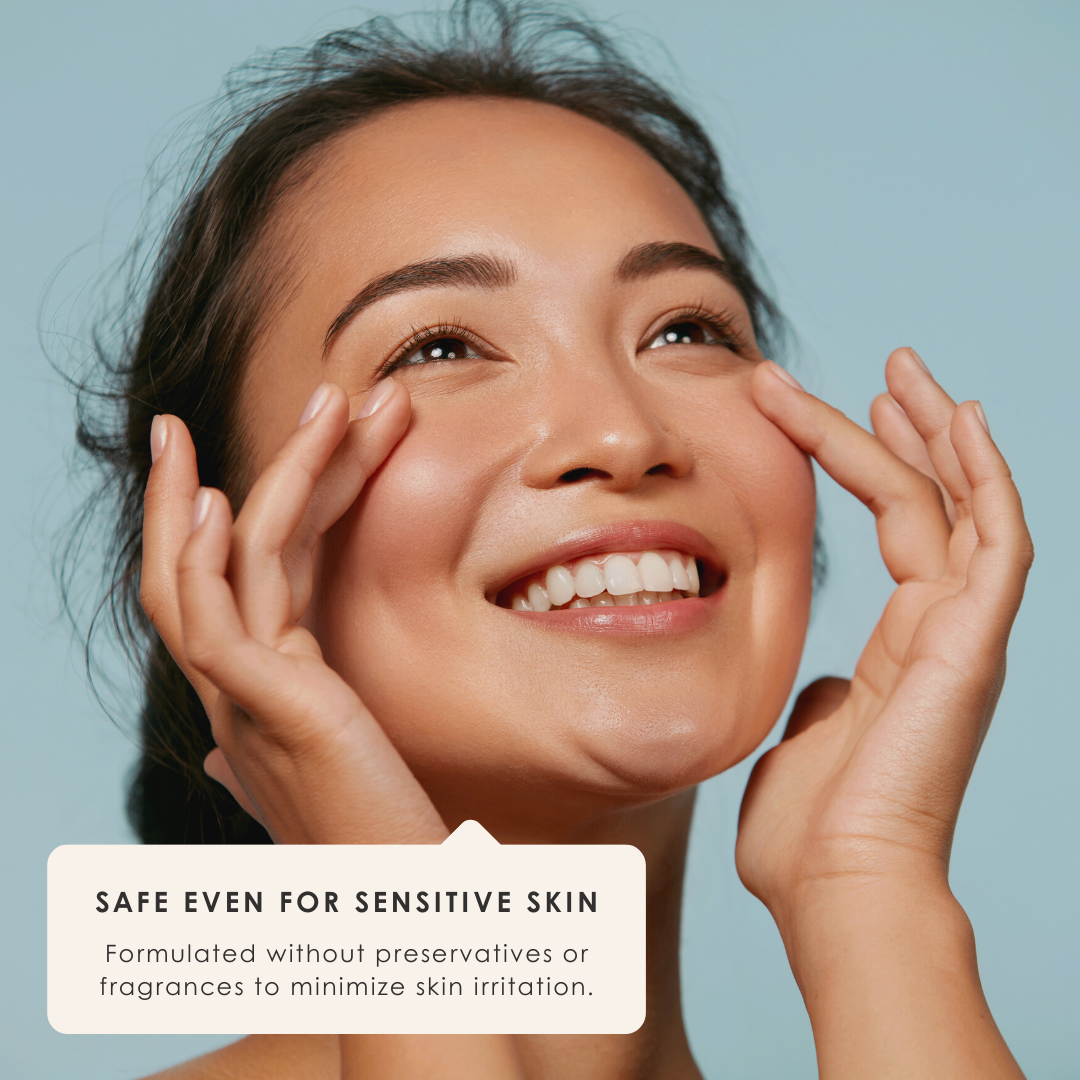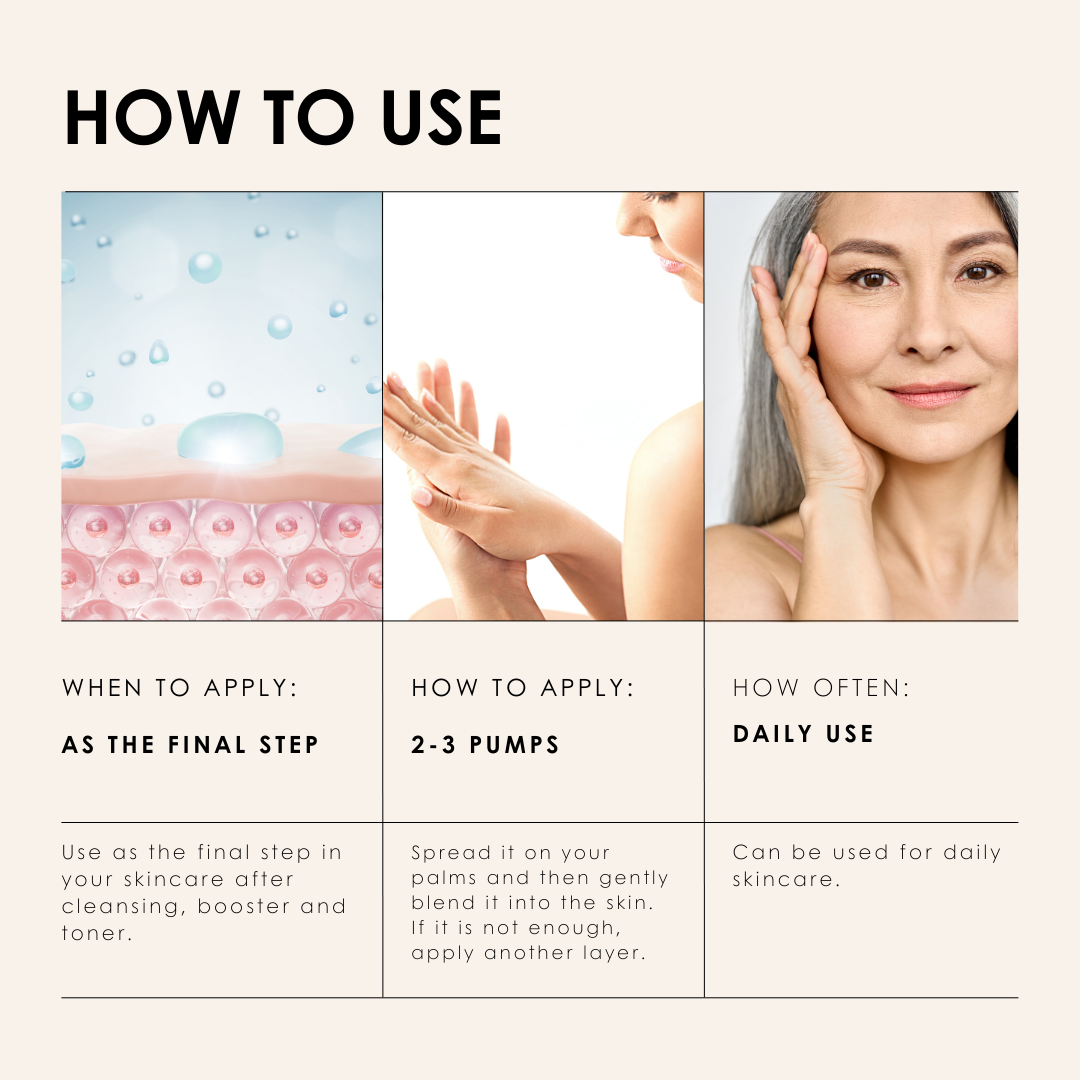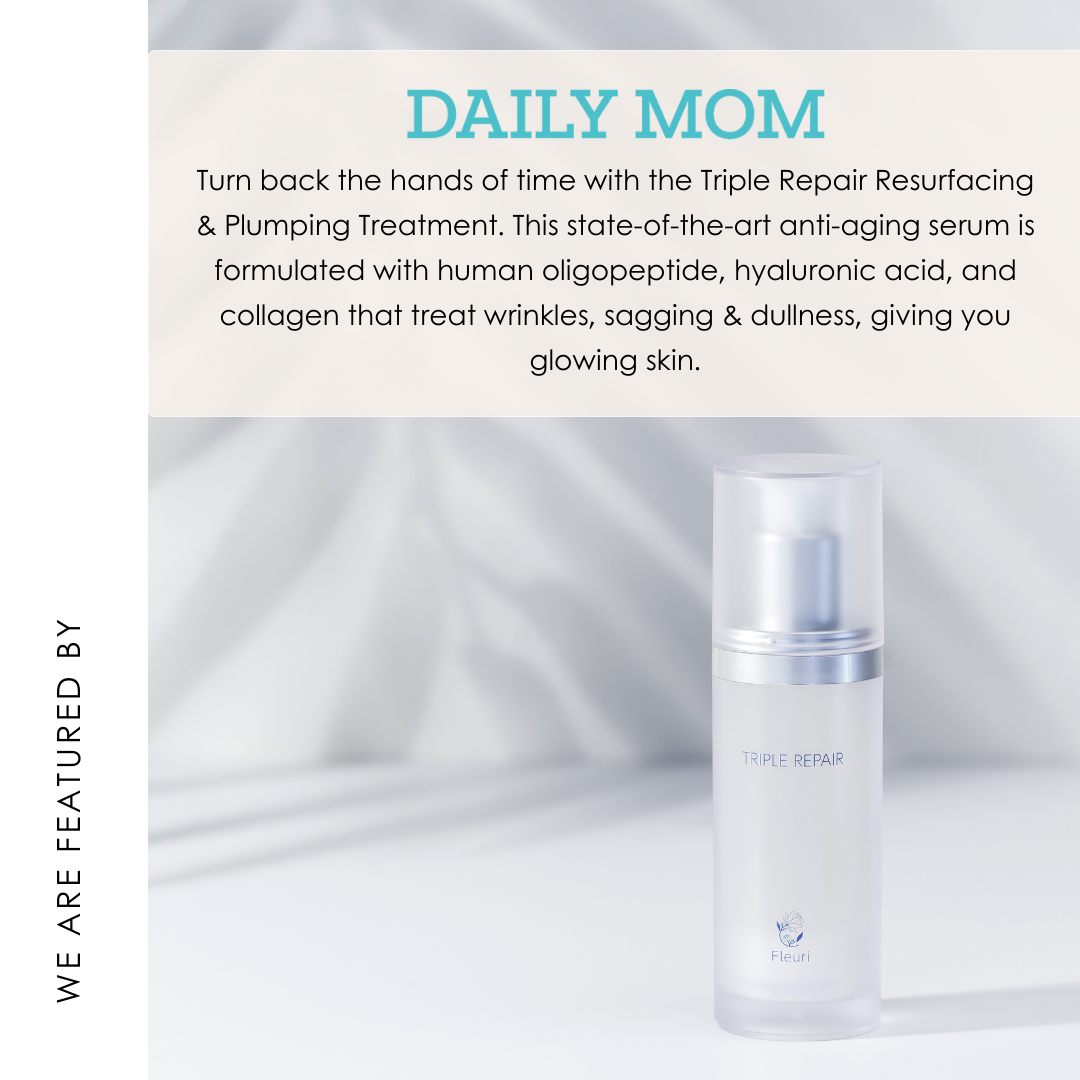 HARMONY WITH NATURE
Triple Repair isnurturingcare. It nurtures your skin and promotes its functions so the skin's own natural ability can maintain moisture levels. The Japanese sense of beauty focuses on formulations that work in harmony with natural mechanisms to maintain beauty. We believe the skin care that is onlygivingdepends on the environment and prevents the skin's natural functions from working properly, therefore its beauty will be lost. We believe thatnurturingcare restores the skin's natural functions and helps you achieve healthy, resilient skin.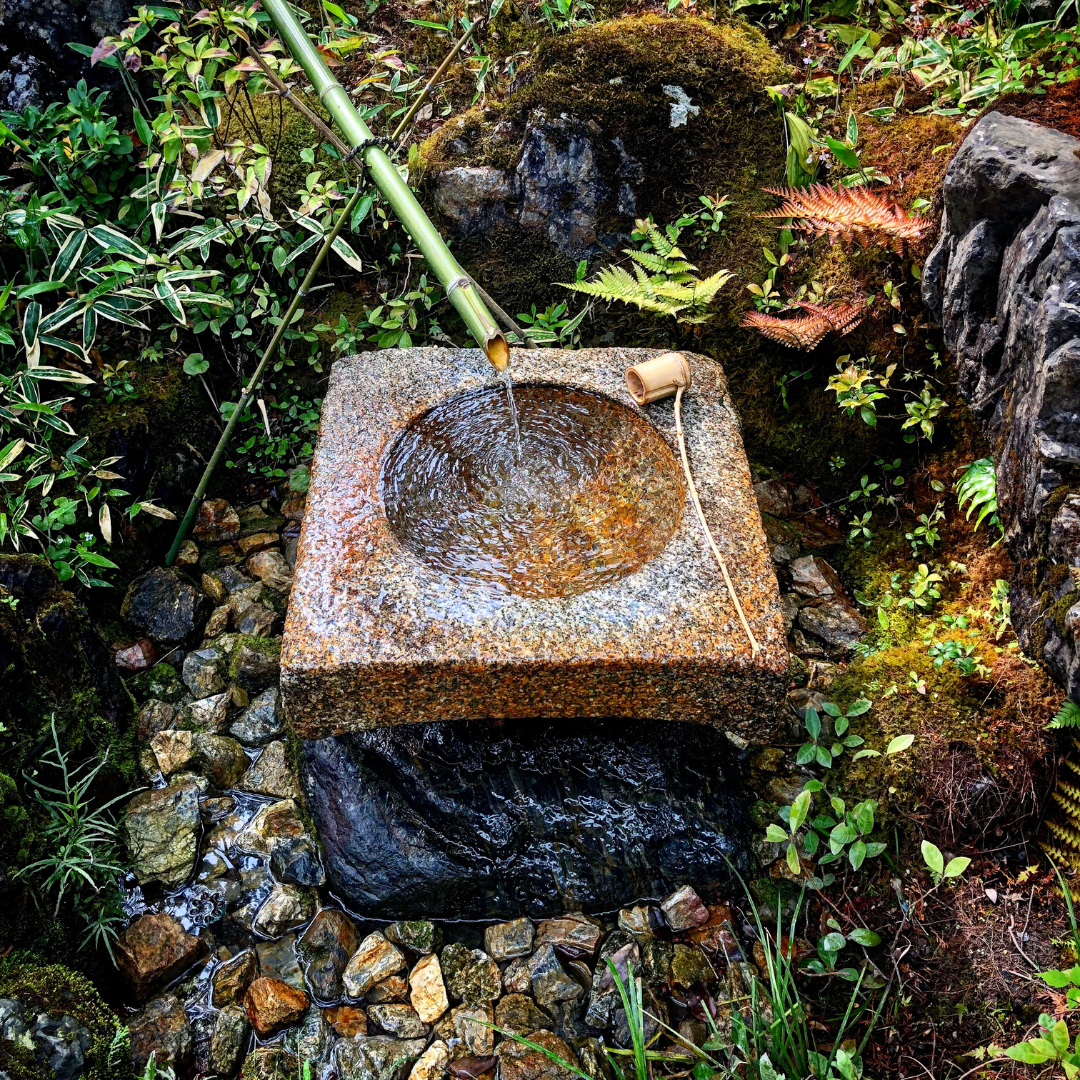 FOCUS ON WATER
We may not normally referwateras an ingredient, but we are certain that thiswateris the only thing to enhance the function of triple repair. Japanesebeautyis deeply related to water, as symbolized by the culture of onsen (hot springs). Water created under special conditions has special capabilities to make the unwanted dirt to float away, prevent skin damage, and promote the penetration of ingredients. This is why we carefully selected thewaterto lead the skin from negative to positive transformation.
Nice product
This review is for Fleuri - Triple Repair - Moisturizing Face Serum for Dry, Sensitive, & Normal Skin.
This is a very nice product for people with dry sensitive skin. It moisturizes well and it doesn't irritate the skin. I love how soft it makes my skin feel. It's one of my go-to serums, I use it all the time and it has helped to keep my skin looking younger softer and well nourished.
pretty good product
just a heads up, if you want to see benefits from a skincare product...you usually have to use it for *more* than just a week. most brands/products suggest a minimum of two weeks use in order to see the best results-but obviously if you use it longer & consistently, you'll see 'maximum' results. and if a company is giving you $130 worth of free product, the leeeast you could do is test it for longer than a week. anyway, my skin is pretty sensitive yet i did not see any sort of irritation or bad reaction. this being a 3 in 1 product, that was a concern at first but luckily it was not an issue. i will agree with others, i did not end up with any sort of noticeable results within the first week, but i did begin noticing some improvement after about 2 weeks. it also doesn't end up leaving my skin looking or feeling oily or greasy which is great because my skin is already oily enough on it's own. overall, this product did help maintain the moisture in my skin which is really needed now that it's winter.
Cloudy Colorless Lightweight, Near Odorless, Matte Finish
The Fleuri Triple Repair Serum is a cloudy, otherwise colorless, lightweight gel base in a 1oz plastic pump for $130 as of this review. Near odorless. Good spreadability. Not sticky, greasy, or unpleasant. Leaves the skin with a matte finish. I recommend applying immediately after cleansing and toning (toner not required) while the skin is still moist. Massage ~2 pumps into the face and neck. Follow up with your favorite moisturizer. Using the product this way should help temporarily boost hydration retention. Average serum. Nothing really wrong with it, but it seems ridiculously overpriced. One of the more expensive products offered by this brand.
Non-irritating
I have mature, dry, cranky, sensitive skin. This serum has been very nice for my skin this past month that I've been using it. While I haven't seen an visible improvement, I'm still really pleased with this serum. It's got great ingredients, most of which I just don't see in other products. Tons of skin-identical ingredients are great for post-menopausal skin because my skin just isn't producing them the way they used to. Continued use should help keep my skin from getting worse. If you have mature skin, that's a good thing. Many of the ingredients act to promote collagen production so with continued use it should really improve skin elasticity which is super important for us mature ladies.
Some of the ingredients by function include:
a?cAntioxidant: Houttuynia Cordata Extract, Centella Asiatica Extract, Soybean Seed Extract, Tocopherol
a?cCell-communicating ingredient: Acetyl Octapeptide-3, Caprooyl Tetrapeptide-3
a?cSkin brightening: Soybean Seed Extract
a?cSkin-identical ingredient: Glycerin, Glycine, Serine, Valine, Threonine, Alanine, Isoleucine, Phenylalanine, Arginine, Proline
a?cSoothing: Horse Chestnut Seed Extract, Houttuynia Cordata Extract, Centella Asiatica Extract, Honeysuckle Flower Extract, Soybean Seed Extract, Allantoin
a?cAntimicrobial/antibacterial: Honeysuckle Flower Extract, Silver Oxide
a?cEmollient: Soybean Seed Extract, Hydrolyzed Collagen, Hydrolyzed Elastin, Hydrogenated Lecithin
a?cMoisturizer/humectant: BG, Acetyl Octapeptide-3, Glycerin, Centella Asiatica Extract, Glutamic Acid, Sodium Acetylhyaluronate, Hydrolyzed Collagen, Hydrolyzed Elastin, Hydrolyzed Silk
Great for sensitive skin
I really like this serum, it is easy to dispense and spread. It does not have a strong smell which I really like. It leaves my skin really soft and doesn't irritate my skin at all. I find myself looking forward to using this each time. I am not sure how much it help with aging but based on how my skin feels I think it is overall good for my skin, I am in my 30's and trying to be better about my daily routine.
Nothing noticeable, expensive
This bottle of serum currently goes for 110$. I wanted to like this product as the Japanese has some great looking skin and they care about skincare. I haven't noticed this doing anything for skin with twice a day use. It didn't irritate my skin but I didn't care for how my skin felt after applying (sticky).
Loving it so far
I was intrigued with the ingredients in this serum, specifically the human oligopeptide. I have a bit of sun damage due to living in a year round warm climate so I wanted something that could help repair my skin. I cana?t tell yet if this serum has actually repaired my sun damage, but I do know ita?s made my skin look smoother and noticeably brighter.
Light serum with no scent
This is quite an expensive bottle of serum and I was very curious about how good it is. I was surprised that it's in a double layered plastic pump bottle rather than glass. It has no scent which I really appreciated. The serum absorbed very fast and there was no stickiness or residue of any sort so that felt good. It's a great serum to layer. It remains to be seen if this helps with wrinkles or hyperpigmentation. It is very gentle to the skin and so far I do like it and would love to try their other products.